32 DIY Amazing Craft By Using Popsicle Sticks
Do you really want to do some different activity on these vacations?. This versatile Popsicle sticks crafts are one of the most creative and unique craft ever to decorate your sweet home and it's time to give pretty gifts to your friends and fallows , loved ones. These wooden Popsicle sticks are easy to use and they are cheap, durable as you can easily buy Popsicle sticks in bulk at the nearer store. This Popsicle sticks crafts are the best way to spend your spare time in some special creative and colorful activity. Utilizing Popsicle sticks has its own charm; especially students of school can use Popsicle sticks as a fun to spend their holidays and vacations in creative or colorful way. We are come with more unique and creative projects featuring Popsicle sticks, ranging from purely decorative to functional.

1. DIY Popsicle Stick House
Do something creative every day. Making Popsicle stick house is the best way to pass the time or do with your kids .This is easy and colorful ,fun craft as it is not so expensive and it is a good decor for your garden and room. You can give this amazing Popsicle stick made house as a present or gift to your love ones.
2. Storybook Gingerbread House
Gingerbread house creatively made with Popsicle sticks and decorated with easy-to-find embellishments. It's a great piece of art and craft. Now you can decorate your story book cover with your favorite Gingerbread house with the help of Popsicle sticks. This colorful house made with Popsicle sticks shows persistence and captures the imagination.
3. Hanging Plant Holder
You can easily make pretty hanging plant holder crafts with simple Popsicle sticks to take your plants display to the next level. Using Popsicle sticks is a modern way to decorate your homes easily with no much cost. To build Popsicle sticks hanging plant holder you just need some Popsicle sticks with some thick strings to tie up.
4. Popsicle Stick Hexagon Shelf
Hexagon shelf made with Popsicle sticks is one of the most creative and amazing craft to decorate your home .This shelf made with Popsicle sticks add instant dimension and warmth any room. If you are looking for inexpensive and durable decor upgrade that Popsicle stick hexagon shelf will inevitably become a conversation piece for perfect home decor.
5. Popsicle Stick Notebook
Popsicle stick notebook is really easy to make. This is the favorite craft for Kids, especially school students to make notebooks with Popsicle sticks, as it's the best creative activity to keep children busy. For each notebook piece you just need nine Popsicle sticks.
6. DIY Popsicle Bird House
Building Popsicle sticks Birdhouse is a fun and simple way to pass the time. You need some colorful Popsicle sticks and hot glue and ropes can transform into a fun birdhouse. Building Popsicle sticks birdhouse is the best way to protect budgies and little sparrows around.
7. DIY Phone Holder
Instead of buying a phone holder, you can easily (and very affordably) make creative and colorful Popsicle sticks phone holder. With only a few Popsicle sticks that are easily available from market, you can make this creative  DIY Phone Holder. It is such a darling idea that you could make in any color and then add fun designs and personalize for each of your friends.
8. Window Treatment through Popsicle Stick
Now it's time to make yourself creative and artistic. Gather the kiddos and have them create such fun  brand new window treatment using various Popsicle sticks. To make wonderful window treatment with Popsicle sticks just paint your window frame as you want, and glue the Popsicle sticks pieces in place. Then let it dry completely before displaying proudly.
9. Stick Exploding Boomerangs
Stick Exploding Boomerangs is the best summer activity without hard-to-find materials or difficult instructions. These craft Popsicle stick exploding boomerangs are super easy to make and even more fun to play with you need are 4 craft Popsicle sticks.  You can use either the regular size or the jumbo size Popsicle sticks to make Exploding Boomerangs.
10. Scarecrow out of Popsicle Sticks
Popsicle sticks Scarecrows are too cute and adorable to scare. Popsicle stick scarecrow idea will let you create one of a kind fall decoration as well as making awesome memories while crafting with your children and grandchildren. You will really enjoy creating this super easy Popsicle sticks scarecrow this autumn season.
11. Puzzle Piece Frame
You will definitely love making homemade Christmas ornaments. This cute puzzle piece frame Christmas ornament is such an easy craft for kids.you just need few popsicle sticks with hot glue gun and some colors to make this astonishing craft. It's also a great way to use up all those Popsicle sticks and old puzzle pieces to make fascinating puzzle piece frame with the help of Popsicle sticks for Christmas and give such a memorable gift to your friends and relatives.
12. Popsicle Sticks Snowflakes
Now you've some fun making these colorful and glittery Popsicle Stick Snowflake Ornaments. If you're looking for a fun craft to do this Christmas season, then these pretty snowflakes made with craft sticks will surely be a hit in your house. These attractive snowflakes Popsicle craft is  made with simple craft sticks are easy to decorate too that any age can help make them.
13. Popsicle Stick Wax Paper Lantern
Popsicle sticks wax paper lantern is the most creative and interesting kids craft covered a little bit of construction skills, colors and color-mixing, and creating unique artwork. With a few simple Popsicle sticks, you can create a cute and colorful wax paper lantern and have a great time with your loved ones.
14. Popsicle Stick Vases
It's time to maintain your sweet home with this creative Popsicle sticks Vases .These Wonderful vases made with Popsicle sticks are so easy ,durable and inexpensive craft to decorate your home perfectly. Combine some colored craft Popsicle sticks, flowers from the garden and a recycled bottle to make this super simple flower vase for the red, white and blue holidays.
15. Popsicle Stick Penguins
Your Kids will really love these cute penguins from Madagascar, happy feet and even a slightly different penguin from batman. You just need to use some Popsicle sticks or wooden sticks and hot glue gun to make these cut penguins at home.This craft is created with non-toxic art supplies and is suitable for toddlers, preschoolers and kindergartners kids.
16. Popsicle Stick Mother's Day Craft
Create a Mother's Day craft with your child. The mother is most important women in your life and your child's life will enjoy the handmade gift. This is a fun and fairly simple project for kids. This is an easy crafting project for those who really love to make different crafting projects.
17. Popsicle Stick Monsters
It's time to use some Colorful Popsicle stick craft would be a great make and take for a monster themed birthday party as well. specially for Halloween, make these fun Popsicle stick monsters with the kids. Use different combinations of shapes and colored Popsicle sticks to create a wide variety of silly monsters. This is a great craft for kid's parties, classrooms, scout troops, or any other time you need a fun group activity.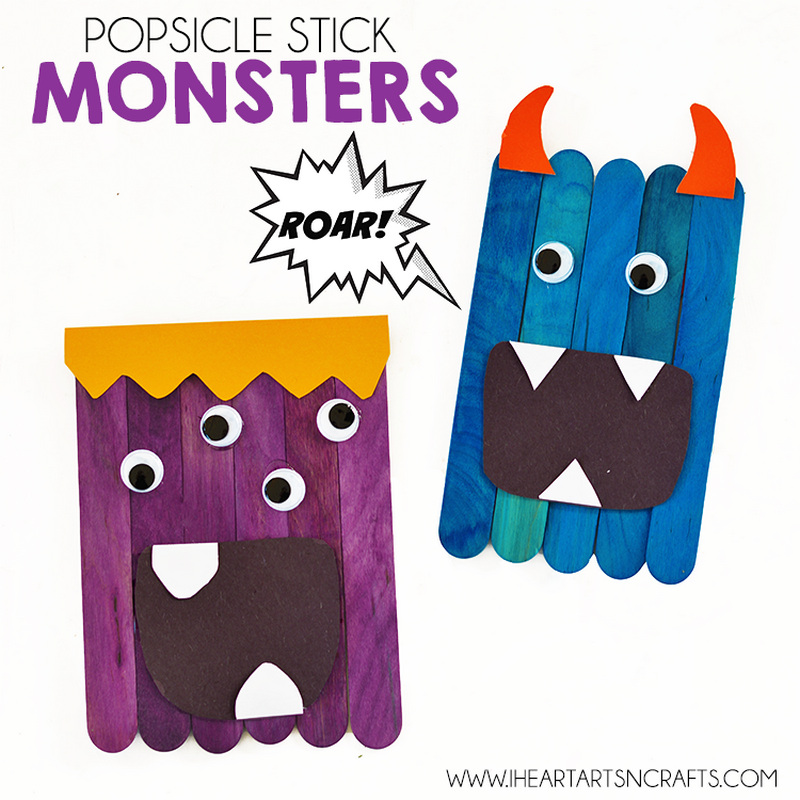 18. Popsicle Stick Flower
Turn craft Popsicle sticks into a bright and colorful Popsicle Sticks Flower Craft, kids will enjoy making both spring and summer. The kids and you love filling your pots and flower beds with bright and colorful flowers in the spring. Then you leave for an extended period of time every summer to visit extended family and hope that they are kept alive while we are gone and just as pretty when you return.
19. Popsicle Stick Fencing
Don't waste your vacations and holidays this year. Spend your free time in some creative activity, as this amazing making of long lasting fence by using colorful Popsicle and wooden sticks will definitely make you feel proud to yourself. To make this wonderful fence you just need to use various Popsicle sticks with hot glue gun.
20. Popsicle Stick Bumble Bee
These bumble bees are easy to make and adorable. Make these cute bumble bees with your little kids, as your kids will definitely love to do this creative an adorable crafting of bumble bees by using few Popsicle sticks.You can get the details of this project from link DIY tutorial below.
21. Kids Treasure Box
Now kids can easily make colorful treasure box with the help of Popsicle sticks to keep their secrets toys in it. Kids are always imaginative and creative so, using Popsicle sticks to make fascinating and wonderful treasure box is just an amazing creative craft for kids to put their imagination into reality. You just need to use one pack of Popsicle sticks to make this beautiful treasure chest for those small things in life.
22. Easter Basket Craft
To make a wonderful Popsicle sticks basket for Easter. This wonderful and easy Easter craft for kids and it can be a wonderful handmade gift idea to cheer up anyone day on any holiday . Popsicle sticks Easter baskets can be used to hold trinkets and small toys or to give as gifts. This crafts activity with craft sticks will be perfect creativity for children, preschoolers, and teens to put their imagination into creativity.
23. Easels and Mini-Museum Kit
Easels and mini- museum kit can easily be made with Popsicle sticks. With this admiring Mini-Museum Kit, the girls will make their own art, frame it on the walls of their home. The easels and mini-museum is marvellously made-up of lots of colorful popsicle sticks and you just need hot glue gun and some creative crafting effort to build this mind blowing  popsicle easels and mini-museum at home without no much cost.
24. DIY Stick Abacus
Abacus is a manipulative tool for teaching calculations and place value. Abacuses or aback were either not readily available or too expensive to purchase for students, So now you can easily or affordably make perfect or durable abacus with the help of Popsicle sticks .You just need one pack of Popsicle sticks with some colorful beads and iron strings to make strong Abacus for students with no heavy cost.
25. DIY Popsicle Stick Hearts
Popsicle sticks Hearts would not break the bank or your little heart either. If you are short on time or money this month, skip the fancy Godiva chocolates and make this DIY Popsicle sticks Hearts idea out of your favorite craft supply Popsicle sticks. This project is a great craft to make together with your kids because you can each personalize your Valentines Heart to your little heart's content.
26. DIY Popsicle Stick Bird Feeder
Making of  Popsicle Stick Bird Feeder will definitely cost not too much and you can leave them natural or paint them up. They will look great hanging out in your garden and your feathered friends will really appreciate them. You can hang it in your tree or it makes a great gift for family and friends.
27. DIY Pallet Coaster
It is fun and easy to make a set of pallet coasters for yourself with the help of Popsicle sticks, or these make a great gift idea for your lovely friends and relatives. Making pallet coaster with Popsicle sticks is just a great creative craft ever. This project is really unique and colorful featuring Popsicle sticks ranging from purely decorative to functional.
28. DIY Folding Popsicle Stick Fan
This summer make your own handmade cool fan by using few popsicle and wooden sticks, you will definitely love to make this stylish cool popsicle sticks fan. you just need some popsicle sticks, glue gun, some colors as you want. you can get the details of such amazing crafting project from link below DIY tutorial.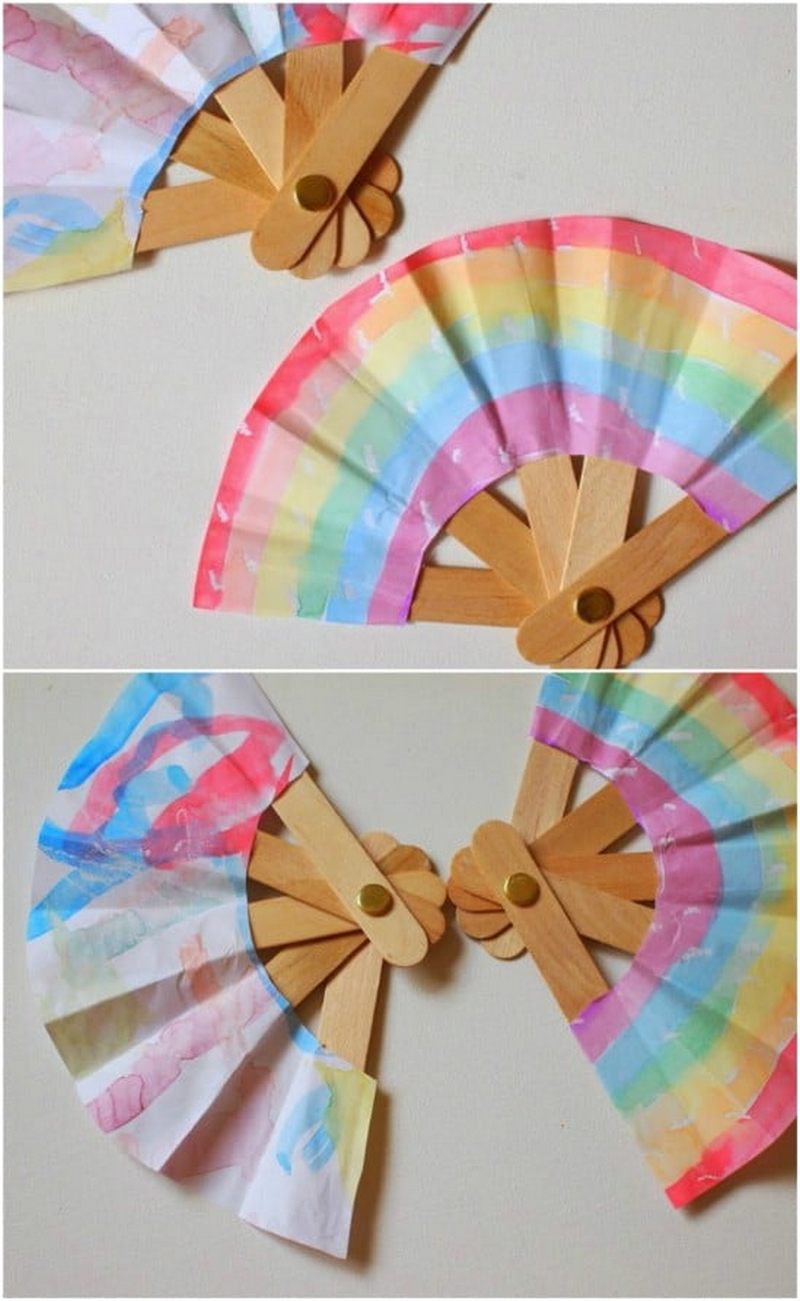 29. DIY Fairy Door
Fairy figurines are one of favorite games to play for children. This enchanting fairy door popsicle sticks craft took only a couple of minutes to make. You could easily make one too. Green colored craft sticks are used to make it. It is also best activity for your children which they can do in their free time.
30. DIY Coupon Bouquet
Here is another clever twist on the tradition of giving mom coupons for Mother's Day or  a beautiful bouquet of Popsicle stick flower coupons, I can teach my child has a genius idea for presenting "Good for One Hug" and "Clean Room without Being Asked" standbys. This is one of the most wonderful Popsicle stick craft ever.
31. Cute Stick Clip
Your kids will really love  to read on this adorable stick clip , you just need fer popsicle wooden sticks and hot glue gun and some colors to make this cute stick bookmark clip. Plus, it helps encourage them to spend some time this summer reading and these make wonderful gifts that your little ones can make for grandparents, parents or even their little friends.
32. Colorful DIY Stick Wreath
Colorful wreath that your kids could make from Popsicle sticks. You could let them do these to decorate their bedroom doors – maybe even add in their initial in the center – or let them make a colorful wreath for your front door this summer. you can get the details of this colorful stick wreath by clicking below option.