20 Adorable DIY Costumes for Kids that is Easy, Creative, and Unique Trick-or-Treating
Who don't like collecting trick n treat during Halloween in those spooky and adorable costumes! It's one of the kids' favorite holiday after Christmas. Everyone know how hard costly it is to purchase Halloween costume for kids. But we are going to make your job easy by giving you these costumes making DIY. Look at those cute and Spunky costumes your child will rock this year in Halloween. You try your favorite costumes with those given tutorial and you really like it. See different Halloween costume craft in detail in below section. And enjoy great time with family and friends.

1. Batman and Robin Costumes
Aw look at those costume so cute right! Check out this cool Halloween for your kids. Make these batman and robin costume for your sweet kids. For making this Halloween costume the things you need are different color of fabric, scissor, marker, chart paper and for more detail see the link below.
 

2. DIY Captain America Costume with PB Kids

Are your kid is captain America fan if yes than you did a right thing on stumbling on this site. Halloween is every kid's pleasure time in holidays. Kids enjoy Halloween and getting dress. Now day's boys like to act like their favorite super hero. Make captain America costume by clicking the DIY link below.
 3. DIY Frida Kahlo Dress-up
Looking for different Halloween getup this year than take a moment and see this beautiful Frida Kahlo dress for your baby girl.  How stunning the dress is! For making this costume the material you need are clothes of any sort of color of your likeness and other accessories. Check more instruction click on the link below.
4. DIY Disney Elsa Costume
Everyone has watched this movie 50 times or maybe more than 50 times with your kids especially with your baby girl's right! That now after watching this movie they demand you to buy this Elsa costume for Halloween, but the cost of this costume is so expensive for wearing only for one day. So why not make this costume in low price for making this dress you needed to click the link of DIY below.
5. DIY No-Sew Disney Frozen Kristoff Costume
Hey Guys! Halloween is almost here and every kid wants to look cute. Make this adorable Kristoff Costume. IT so easy and you don't have sewn that costume. Yes you read it right you don't have to sew it such a relief. The material you need for making this costume are some black old shirt, fur and for further detail click the link below.
6. Demon Kidnapping Costume
This Demon kidnapping costume is scary. Make these costume for your kids they will be so happy to wear different costume. For making this costume you need wire, stuffing, mask, backpack, hot glue, old man size shirt, duct tape, old pj's and 2 dowels. Click on the lick below for more steps.
7. Woody from Pixar's Toy Story
Look at the cute cowgirl costume cute right! This is so adorable and cool for your kid. Make this woody from Pixar costume from toy story this Halloween. The materials you need for making this dress are white shirt, hat, black fabric and hot glue. Check for more steps click on the link below.
8. Spider Infestation Costume
This is for those persons who doesn't really want to dress up but has too. This amazing fun "costume" is made using tattoo paper from Silhouette for wonderful fun. You can get some instructions about costume are on the back! This is just a glazed over and you easily make this with help of tutorial.
9. DIY Kids PAC MAN
This DIY Halloween costume for kids is sure about you to stand out when your kid is trick or treating! This is very easy and cheap to make, and fun to put together. You make this some ghosts for Mum and Dad to wear too! It's really full of fun making costume. See wonderful tutorial in below link.
10. DIY Needle and Thread Halloween Costume
This wonderful needle and thread Halloween costume is easy to finish with great time and experience, I think it took me 4-5 hours from start to finish; yours should go even faster because you make faster with the help of tutorial and since I already made all the mistakes for you! See tutorial in below link.
11. DIY Tin Man Costume
This costume of Tin Man is one of the most famous character costume, many kids and adults too much love to dress up as the Tin Man for different events like Halloween or costume parties so we make this costume in easy style. You can save a lot of money by trying to make your own costume because there are many ways to make a Tin Man costume with the help of easy the methods.
12. Mason Jar Flower Vase Halloween Costume
Not this Mason Jar Flower Vase costume absolutely adorable? Now you can be making your favorite project for Halloween! It's a simple project made from simple ingredients or tools and you easily learn with tutorial how we made this adorable boxtume that's perfect for girls, women, moms and anyone else who loves pretty costumes!
13. Women in STEM Halloween Costumes
Do you like STEM Halloween costume?  The Halloween costumes can be an opportunity for inspiration. You try to make this easy DIY girls' STEM Halloween costume and its base on women who notable made such important advancement and innovation in science. It's great STEM Halloween costume. See tutorial in below link.
14. Egg Carton Black Cat
This craft is great and perfect as a if you're a last-minute kind of person, and you can whip this idea up in a morning so long as you have some drying time to spare for the paint. Now try to make it. It's ready within few times and easy to make with few things. See helpful tutorial in below link.
15. Dragon Queen Halloween Costume
Looking for unique Halloween costume for your children? This dress is a beautiful material. Maybe some people instructions with the dress for those who don't know could be helpful? Other than that, the dress was totally worth the money, so you make your own dress, you love it.
16. Easy Lego Halloween Costume for Kids
Do you want to make Lego Halloween costume for kids? This easy Lego Halloween costume for Kids only take about 10 minutes to make, and look so cute! It is the perfect inexpensive Halloween costume idea with great fun. This DIY Halloween Costume idea is perfect together in an inexpensive way, and that is super easy.
17. The Mouse from 'If You Give a Mouse a Cookie'
Do you want to make a mouse a cookie costumes for kids? You can use clothing you already have, or purchase new items according to choice. You make this costume for kids, so you use different color dress, or sweatpants and a sweatshirt. Kids really like this costume. See tutorial in below link.
18. An Easy Halloween Pizza Costume
19. DIY Halloween Costume Sugar Skull Bride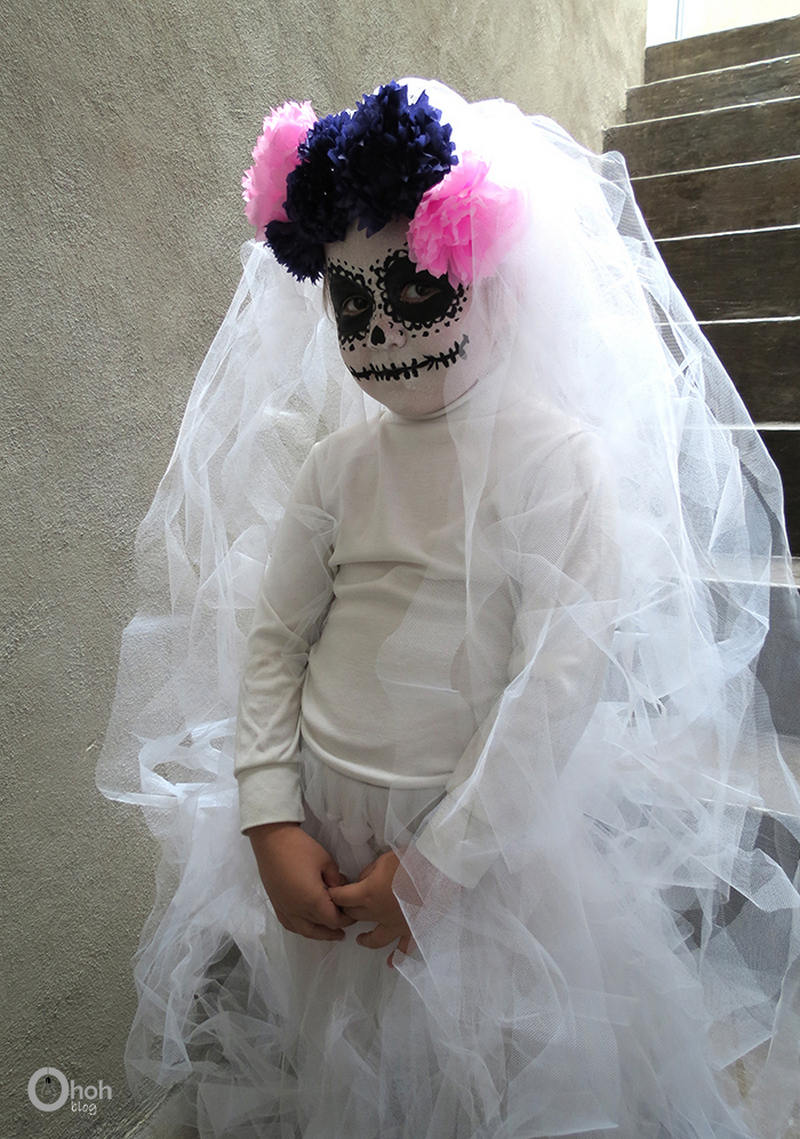 20. No-Sew DIY Donut Costume