25 Plus Balloon Decor Ideas That is Really Easy
Take a look at all these most creative decoration ideas and give your favorite once and try for your next party! Why not because balloons can be one of the most inexpensive and simple decoration for any party, weddings or holiday celebrations. So you might be look for a creative and unique way of set them. It's time to we have tons of awesome balloon decorations, which would add more style, color and flair to any special event from weddings, baby showers, birthday parties and more. You easily take a look all these most creative decoration ideas and give your special once.
1. DIY Balloon Christmas Tree
Balloons are not usually the first thing that comes to mind when you think of Christmas decoration they are likelier to be used for birthdays and New Year's. So that balloons can be a brilliant addition to your holiday scheme and give your Christmas tree the upgrade it needs and you easily purchase some white balloons, blow them, tie them and place them throughout the tree. The balloons join them in quite nicely with the snowflakes, ribbon, and lights. Link in below link for see DIY pattern detail.
02. Party Pup Balloons
Turn any balloon into a puppy? Why not it's too interesting! You easily make this party balloon with the help of following easy steps just like, print out the party pup's ears template, cut out ears, trace them onto brown paper, cut out, and fold along dotted line. Place double sticks tape along the back of the fold of each ear and stick one on each side of the balloon. See the complete pattern in below DIY pattern link.

03. Paint Splatter Balloons
Simply fill up balloons with craft paint and let your kids create their own paint splatter masterpiece. Don't let incontinence hold you back from getting messy and playing with your kids with amazing paint splatter balloons. Briefs helping keep you dry, you can simply focus on your kids and enjoying the moment! See the complete pattern in below link.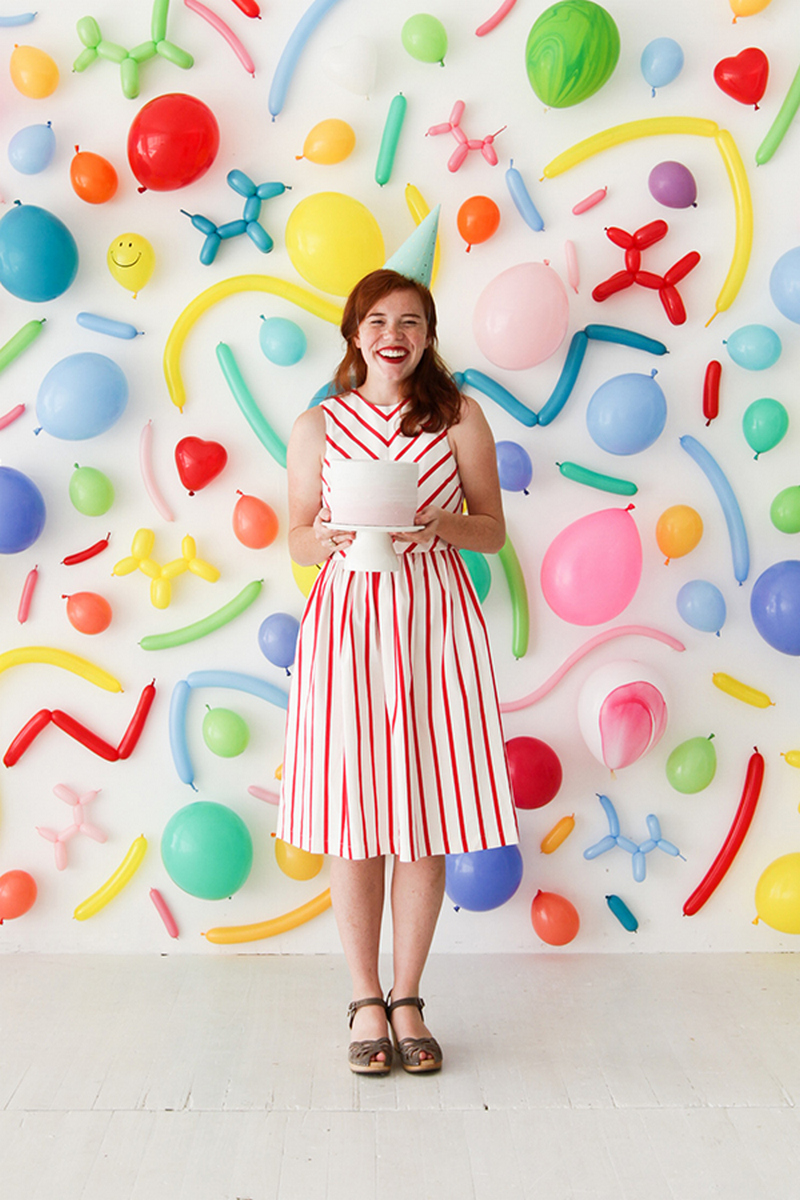 04. Cherry Picking Balloon Wall
This cherry picking balloon orchard makes a great focal point and a photo backdrop, too! When you've got food, fun and drinks, adorable decor in your parties must try this pattern of balloon, it's one of the best ways to celebrate the cherry on top of your party sundae. For sweet decor ideas, check out the below link for celebrate everything. For more fun thing to do with balloons, see the decor details chapter.
5. Haunted Woods Halloween Party Ideas
If you really want to scare people a haunted house will certainly do the trick. You do not need a real haunted home to have a party; you can make your own haunted house easily. Pulling off this scary Halloween party will take some party planning, and you will need quite a bit of help. If you do it right, your guests may talk about your party for years to come! These tips can definitely help.
6. Celebrate Your Tribe Birthday Party
This time to celebrate is now! And celebrate your tribe party is the perfect theme for a celebration with your best friends! This gorgeous celebrate your tribe birthday party, and add in a gorgeous balloon wall and beautiful flower arrangements, and you have a best setting for a fun time with your best patterns! See pattern in below link.
07. DIY Gold Splatter Paint Balloons
It's a messy yet super fun project! You can even get the kids involved. It is a relaxing activity for mommy after a long day of photo shoot, picking up the little ones at school and taking them to swim and martial arts class. I am sure you can relate! Only few things require for doing this just like craft paint, paint brushes, mini disposable cup, water etc.
8. Rainbow Balloon Backdrop
Create a stunning backdrop with this rainbow cloud balloon backdrop kit. It is certain to make your special occasion for all the more memorable for every guest, whether for a baby shower or a first birthday party or more. The set includes six streamer rolls in various rainbow shades, assemble it easily and then create a beautiful feature wall! See the complete pattern in below link.

09. DIY Donut Balloons
Sweet treats have become very popular in balloon decor recently. Now it's time to share the details on how to make a balloon donuts to be ready when your kids request this trending design! It all starts with of balloons to make different shapes like uniform shape and then add in the fun of sprinkles based on your event theme. See complete pattern in below link.
10. Hot Air Balloon Centerpiece
As an integral part of any party, balloons seem to have come from the land of internal celebrations. Now we have shown you how a pinch of creativity can take even a classic latex balloon to the next level of decoration. Just like with this miniature replica of a hot-air balloon, you can fill your space with the spirit of adventure. See complete pattern in below link.
11. DIY Cactus Balloon
In the cactus balloon party that we put together, now we made some fun cactus shape balloons as decoration. Today we are going to share the pattern of how make this super simple and fun balloon decoration! You don't forget to check out our DIY pattern for all the other matching party goods for a fun and stylish cactus balloon! See pattern in below link.
12. Sprinkles Balloon Backdrop
This would be the perfect opportunity to bring to life our photo booth ideas. We are really love photo booths because they're a simple way to sandwich people together and break the ice at a party. Once you have the supplies, the backdrop comes together quickly, when the party starts, provide a few props for people to or pose with.

13. Balloon Paper Farm Animals
On a farm, there are dogs, chicks, sheep and cows or more. In short, these printed balloons will be perfect! They will delight our young and old fans of cute animals with the hang on the walls, around the buffet or to mark the treasure of your hunt, these balloons will be perfect for your birthday party! See complete pattern detail in below link.
14. DIY Confetti Dipped Balloons
The confetti dipped balloons DIY concept here is super simple and just add a little effort to the bottom of your balloon, sprinkle on some confetti, and let dry. Be careful in order for the balloon to still float, you only need a super light sprinkling of confetti! They are easy to make at home and the contents you need are affordable decoration. See pattern in below link.

15. Pink Confetti 1st Birthday in Moscow
This beautiful and hot pink confetti first birthday party stars decoration in Moscow– Confetti are made of shiny and cute material. Isn't that one of the best parts about blogs and the like? You can find people on totally opposite ends of the world doing exactly the same things you like to do with your own family, like planning pink and gold birthday parties. See pattern in below link.

16. Balloon-Backdrop
Balloon backdrops are also suitable for wedding proposals where  by you can add wordings like "will you marry me" on the backdrop. It looks grand, it looks romantic. The people that you are intending to surprise will love them! Balloon backdrops or balloon photo booths are great for photo taking sessions at a birthday party or more to create memories.
17. Pink Flamingo Bridal Shower
Pink flamingo bridal shower is amazing idea for decoration with balloons. So I gather some inspiration for a flamingo theme Bridal Shower. It is full of palm trees, fun fruity drinks, flowers and of course lots of flamingos. It's look great and attractive. You easily follow this idea of decoration with simply steps. See complete pattern in below link.
18. Ice Cream Cone Sticks
Just read the name of this decoration it's too amazing and refreshing idea for celebrate the parties. Ice cream cone sticks one of the easy ideas for making with some balloons, use charts for making cone sticks and some papers for sprinkles. You only follow some steps for making this ice cream cone sticks balloons. See complete DIY pattern in below link.
19. DIY Strawberry Party Balloon
We know you will absolutely love soft matte pink, white, red, and green colors mix with the strawberry foils just which are include and long green balloons for curls. You must have a manual balloon pump for this one. We know that this is the perfect touch of whimsy and add magic to your event. See pattern in below link.

20. DIY Balloon Chandelier
It is one of the favorite glam factors for kids and even adults. Now explore unique way to make balloon chandeliers which will complement your party decor. It's a cool and unique balloon decoration surely adds color and life to parties, baby showers, and wedding events for enhance the event decor. See pattern in below link to make your parties amazing.
21. Balloon Snowmen
Oh God it's look so cute and best decoration for celebrate Christmas this year. This cheerful balloon buddies come together in easy way and no time taking balloons and cupcake papers to add a string on their backs and you have got an instant winter garland decor. You can easily decorate this balloon and look awesome.  See this pattern in below link.
22. Valentine's Day Balloon Heart
I have to try and rush to put it out there just in case anyone needs a last minute backdrop for a Valentine's Day make special. This idea just came to in my mind recently to make special day for your beautiful one. This Valentine's Day balloon heart tutorial or pattern is very easy and interesting and not too much time taking. See DIY pattern in below link.
23. DIY Balloon Cupcake Toppers
This DIY strawberry balloon topper is perfect simple party sweets and host as exciting summer strawberry party. Whether you consider yourself crafty or not, this DIY toppers can be create in no too much time with very little effort. See below link and watch the easy step-by-step pattern for these strawberry balloon cupcake toppers. Click on below link.
24. Glitter Dipped Balloons Sisters Suitcase
When it comes to birthdays, you don't always want to spend an arm and a leg on decorations. And other times, you want something more personalize and unique to celebrate a love one. All you need to make this gorgeous DIY design to come full circle are balloons, chunky glitter. We are in love with all the possibilities that come with this idea! See pattern in below link.
25. DIY Balloon Crafts
These unique balloon decorating idea use a variety of simple and easy craft supplies such as feathers, pom-poms, faux flowers, stickers and markers to decorate balloons. Lightweight glitter pom-poms are a simple balloon design for a birthday and look especially cool on clear balloons, also look great and interesting. See pattern in below DIY pattern detail link.
26. Emoji Ghost Balloons
27. Cinco De Mayo Party Idea
28. Balloon Floral Backdrop DIY
29. DIY Balloon Planet Tutorial
DIY Pattern Detail