40 Delicious and Easy To Make Dessert Recipes
Can you enjoying a good dessert after dinner? Of course End the meal on a sweet note with easy dessert recipes that can be whipped up in a flash while still looking impressive and tasting absolutely delicious. Make these smart, simple desserts ahead of time for a relaxed weekend night supper with friends and family. So much easier than it looks, perfect for beginners. You can make it any dessert in this up to any leftover will make a welcome treat with a cup of coffee or tea and enjoy the yummy treat. These simple and stylish desserts ready to serve with in few minutes. These desserts look like a professional made them and they are actually so easy to put together. Select recipes for crisps, bar cookies, cake, cupcakes, and more. Serve homemade desserts with our quick recipes for both warm and cold sweet treat.
1. Apricot and Blueberry Chia Pudding
This delicious Apricot and blueberry chia seeds pudding with an amazing texture and is topped with an incredible yummy berries. It's so healthy and the taste is amazing, delicious and so yummy to eat. It is the one of the best in taste and perfect for healthy diet. You prepare this pudding at night and serve in the morning breakfast. Start beautiful day with this yummy and healthy pudding.
2. Basil Cream and Fresh Strawberry Tarts
It's dessert! That's why these strawberry tarts are perfect for the event. They are filled with a refreshing light basil cream and with full of yummy flavors. This crust is filled with a basil flavored pastry cream, topped with fresh strawberries and a sprinkling of basil sugar. Get the delicious recipe in below link.
3. Berry Pretzel Dessert
This pretzel dessert salad is always a hit at parties. It's a berry pretzel dessert that is dangerously good. The combinations of sweet, salty and tart make it irresistible. The crunchy salty crust pairs beautifully with the creamy cheese middle and fruity jelly topping. It's also pretty to look. You get the recipe click on below link.
4. Berry Vegan Gummies
These homemade vegan fruit gummies snacks are a fun healthy gummy treat for kids or adults that you make in any fruity flavor or shape with in few ingredients. They are tasty, simple to make, and absolutely delicious for kid – friendly. These gummies are also vegan, which is great if you follow that diet. You have a yummy treat on your hands.
5. Blueberry Cheesecake Egg Rolls
Blueberry cheesecake egg roll is a quick and easy snack or dessert. These little bites are much easier than your traditional cheesecake, and perhaps even tastier. You can be ready this to eat within 25 minutes. It's simple to make and yummy in taste .It naturally sweetened with honey, so the flavor is well rounded go great with cream cheese with the topping of ice sugar. It's simple and delicious.
6. Cheesecake with Berry Toppings
Make the cheesecake with berries topping, it's creamy, smooth, rich and sweet in taste. Everyone loves cheesecake especially with a yummy fruit topping. Make these cheesecake for the specially events celebration. Best basic cheesecake with raspberries from foodie with family. Click on the below link and Get the recipe.
7. Chocolate Shortbread with Chocolate Buttercream Frosting
Chocolate shortbread bars with chocolate buttercream frosting this looks delicious, thick, frosting shortbread with chocolate buttercream, topped with m & m candy. It's every chocolate lover's dream. Is a classic, simple recipe of just 3 ingredients? You can also add nuts in addition to or in place of the colorful m & m candies. This treat is completely adaptable to toppings. You serve with a glass of milk and enjoy yummy treat.
8. Chocolate Strawberry Ganache Tart
Can you ready for Serve and eat this gorgeous strawberry and chocolate ganache tart with mixed berries and shaved chocolate? Yes, This tart is so decadent that people will assume you spent the afternoon slaving over a hot stove it's topped with the world's easiest dark chocolate ganache and sweet seasonal strawberries. Get a recipe on below link.
9. Chocolate-Covered Cake Balls
Chocolate Cake Balls are made with crumbled cake and frosting with dipping in melted chocolate and covered with sprinkles. I really like to make with the sprinkles or decor to go with the season or occasion. You can make any variation of these you like and changing up the cake mix and frosting flavors.
10. Confetti Squares
These no bake Peanut Butter Confetti Squares is a classic dessert that's a hit with young and old alike. This is simple to make and full of yummy flavor. This recipe is quick and easy and yummy. It is important to use peanut butter without icing sugar. This is very colorful, yummy looking, tasty. Kids really like them. On a hot day they taste great. Check the recipe on click below link.
11. Cookie Dough Ice Cream Sandwiches
The Cookie Dough Ice Cream Sandwiches are make with cookie dough. You Use your favorite ice cream and make it. It's a great snack or dessert. These are amazing with Layers of chocolate taste and full of wonderful taste and the perfect treat. This is an easy to make and frozen ice cream bar to eat and enjoy life. Get recipe in below link.
12. Cream Cheese Stuffed Strawberries
These cream cheese stuffed strawberries are packed full of creamy cheese and top with a dusting of graham cracker crumbs and berries. This is a perfect bite dessert. These are so adorable and they look absolutely delightful. You really try these easy red, white and blue Cheesecake Stuffed Strawberries for a healthier patriotic dessert. And may sure you love this and make again and again. See recipe in below link.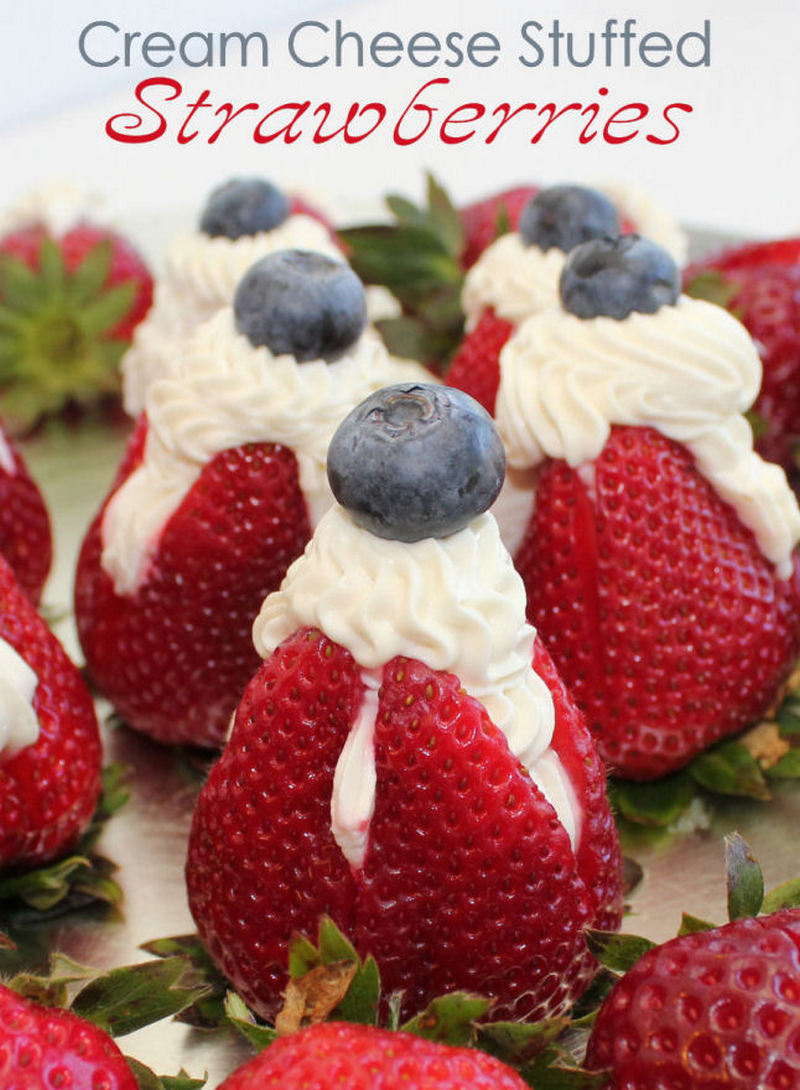 13. Crinkle Top Brownies
The best gluten free crackly top brownies are light, a little fudge, extra chocolaty, perfectly sweet, with the most flake, crinkly tops ever. These brownies have a sort of texture contradiction. They're rich and fudge-like but also airy and light. It's so wonderful–yummy, delicious, and crackly. Serve with a cup of tea or coffee. The best! Get recipe in below link.
14. Easy Christmas Peppermint Patties
Christmas Peppermint Patties made easy with few ingredients. It is the perfect fun and festive dessert for holiday parties. The taste is so much better homemade. These are so easy to make and I really make for our Christmas party. They're so pretty looking and perfect for any Christmas treat table. Enjoy yummy colorful peppermint patties and also enjoy this taste.
15. Easy Pumpkin Chia Mousse
A simple and healthy inspire breakfast that will have you licking your spoon clean and doubles as dessert. This is perfect for healthy breakfast. This pumpkin spice latte chia pudding with the delicious flavors and you also love in a traditional pumpkin spice. If you're looking for a rich and creamy chia pudding for a dessert, you can go and use coconut milk. Get delicious recipe in below link.
16. Easy Tiramisu Recipe
The Tiramisu is a timeless no-bake Italian dessert combining ladyfingers and a creamy lightly sweetened cream. This is easily the best homemade tiramisu recipe and full of yummy flavors. It's an important dessert for an important event. It is so much tasty, soft texture and delicious. Serve this dessert after topping of coco powder. Get recipe in below link.
17. Fresh Peach Crisp
You Make this yummy and easy peach crisp recipe using her home. I use fresh peaches that are going, uneven slices and chunks, old butter and terrible job cutting it into the flour mixture. It still turn out really tasty. This Peach Crisp recipe is EASY and also delicious. Use Fresh peaches in simple topping with an amazing cinnamon oat topping and bake. Serve with ice-cream scoop.
18. Frozen Reeses Peanut Butter Pie
Frozen Reese pie is best chocolate peanut butter lovers. It's rich, creamy and packs a lot of chocolate-peanut buttery flavor. It's crazy dedication right there. Looks delicious!  This pie looks great. This is delicious recipe ready to eat within 25 minutes. This recipe is so easy. You serve the delicious dessert for your family and friends in special events. Check recipe in below link.
19. Fruit Pizza with Cream Cheese Frosting
This simple fruit pizza is beautiful and delicious. This fruit pizza is so much fun to make. You eat this delicious dish with your family and friends and increase fun with this. It's easy to make in just one bowl and it's got such a great soft, chewy texture and rich vanilla flavor. Obtain recipe in below link
20. Fruity Pebble Rice Krispie Treats
Fruity Pebble Krispie Treats are the best kind of marshmallow treat. You Made with fruity pebbles and lots of marshmallows and sweet in taste and the perfect rainbow treat also perfect to eat for breakfast, snack and dessert.  You really enjoy this treat. Get recipe in below link and enjoy this delicious dessert and increase events fun.
21. Giant Ice Cream Sandwich
It's  a yummy, delicious and amazing snack. This is easy to make with full of yummy flavors. This Sweet snack with ice cream sandwich is perfect for delicious treat. This is an amazing dessert and also perfect for celebrate birthday and more events. This dessert is easy to make and tasty. Get recipe in below link.
22. Hot Fudge Golden Grahams Parfait
Everyone's love serving ice cream for dessert, especially when it is HOT in Florida! This sounds like a delicious topping! It's too yummy in eat and looks like a delicious and amazing. You serve Layer Spicy Hot Fudge Sauce, brittle, and scoops of ice cream in parfait glasses. Garnish with whipped cream and cherries. Obtain yummy recipe on click below link.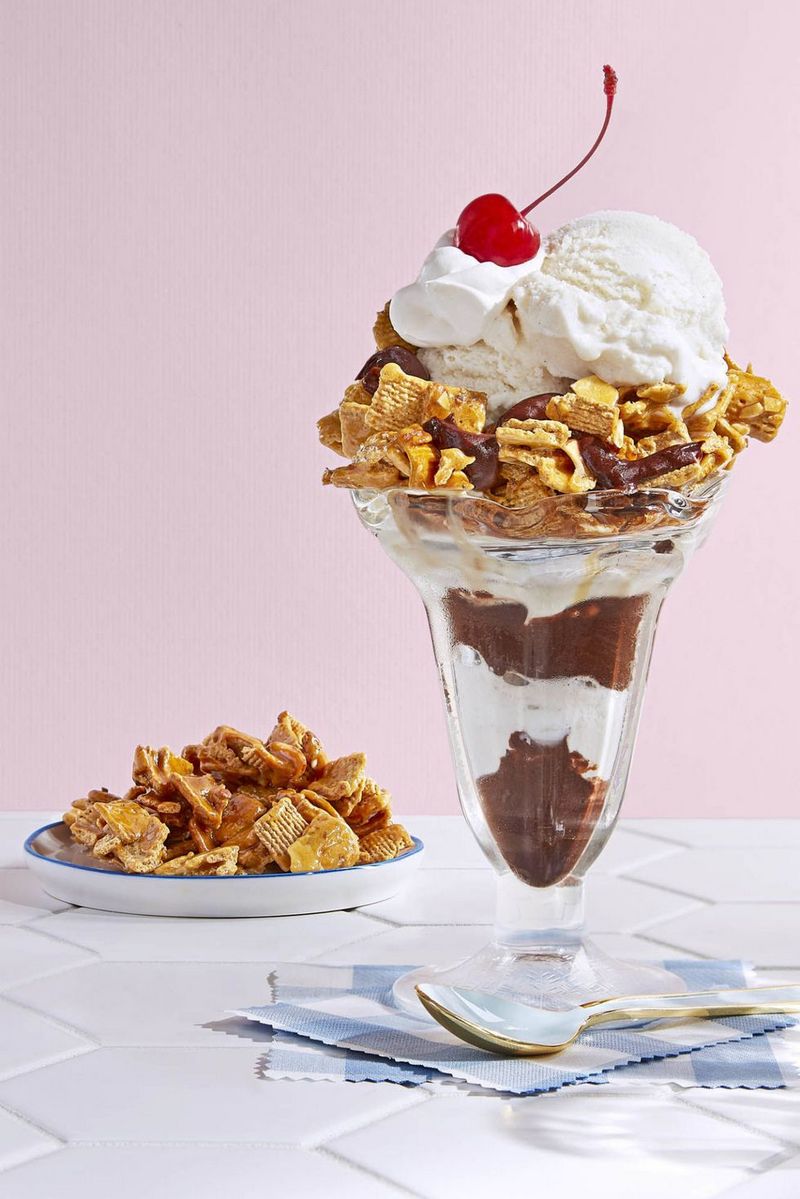 23. Ice Cream Pie with Peanut Butter Krispie Crust
This recipe can be changed to accommodate different tastes by changing the flavor of ice cream. This is easy to make, and a real crowd pleasure. It can be serve to friends and family on occasions or events. This recipe is supremely simple with ice cream. You also add some fresh raspberries to the top and increase flavor you use for ice cream.
24. Key Lime Pie Dip
This fun dessert dips tastes just like the tangy, summery pie. You use crackers as dip for a familiar finishing touch. It is so tasty and look amazing and attractive to people. Serve with crushed graham crackers and lime slices. The perfect cool and creamy summer dessert! Get recipe to click on below link.
25. Marshmallow Treats and Ice Cream Sandwiches Combine Forces
Ice cream sandwiches are delicious and so easy to make. You also make with so many delicious flavor combinations to choose and love ice cream sandwiches. Now we've given them a fun twist and turn them into an ice cream sandwich that's perfect for any cereal lover.  Get this recipe in below link.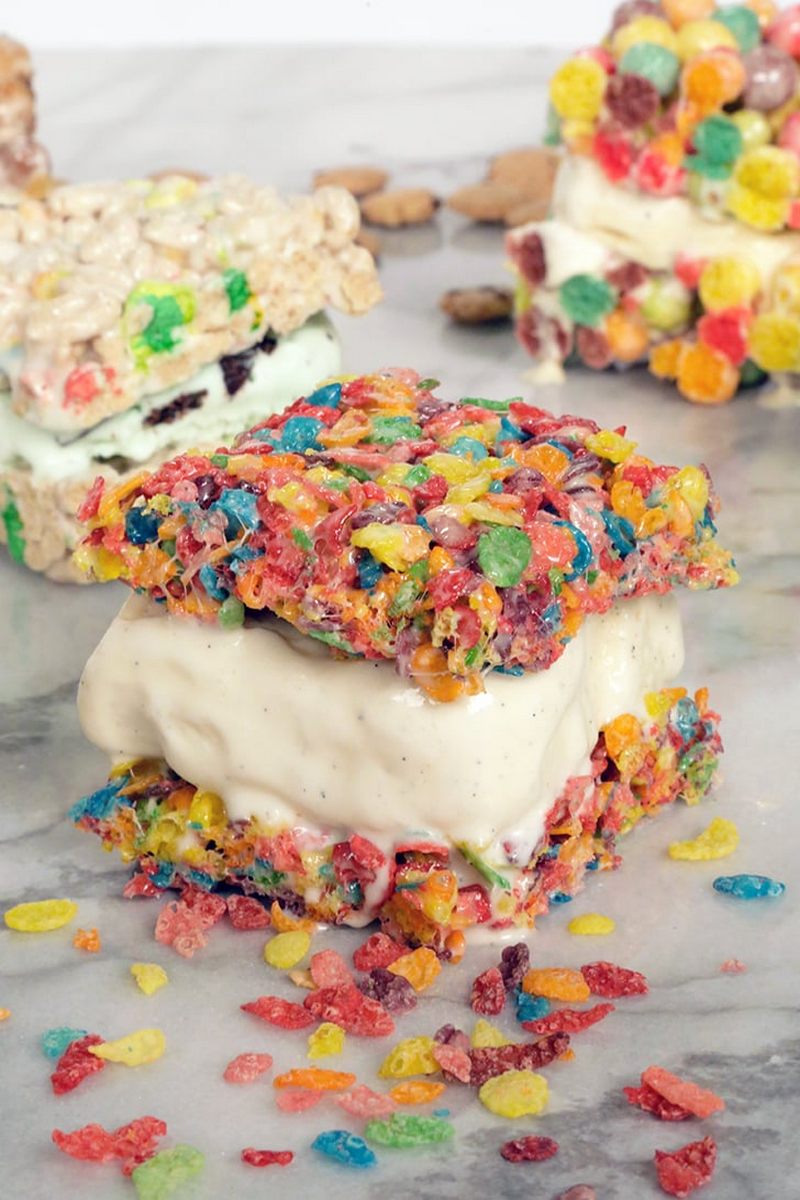 26. Microwave Fudge Recipe
It is like a delicious firm caramel. This Creamy homemade Fudge make in the microwave with only few ingredients and Top with your favorite chop nuts. You can easily make delicious chocolate fudge recipe. It is so good and delicious in taste. Click on below link and Get recipe.
27. No Bake Cherry Chocolate Cheesecake Parfaits
These No Bake​Cherry Cheesecake Parfaits are not only beautiful, that is delicious, and perfectly dessert for any party.  Enjoy this super simple to make and scrumptious dessert! These parfaits are a great make recipe, so it can be made one day before serving. The most important part is that you make these and eat these immediately because summer is slipping away and this is a fantastic way to enjoy its best flavors. Get this recipe in below link.
28. No Bake Chocolate Oatmeal Bars
 It's quick and simple to make and delicious in taste. You serve these delicious bars with a glass of milk. It is combining so many delicious ingredients. It's perfect for healthy breakfast. You try this amazing recipe and definitely love its flavor. Get the recipe in below link.
29. No Bake Guinness Chocolate Cheesecake
It is quite smooth and very rich. This is one of the creamiest chocolate cheesecakes around with a hit of Guinness to enhance the chocolate flavor. It is wonderful and best for yummy treat. A delicious sounding and looking cheesecake! What great flavors and looks absolutely amazing. Get recipe in below link.
30. No Bake Lemon Cream Pie
This no bake lemon cream pie is a quick and easy to make. There are only few ingredients need for the filling of the yummy lemon cream pie. It's light and refreshing with the perfect fluffy lemon pie. It is easy and quick to make and serve on special events. Everyone really love it! Get recipe in below link.
31. No Bake Mini Key Lime Pies
These lime pies are an easy, mini version of your favorite summertime dessert. It's a perfect little treat for that late night sweet tooth craving. So easy and so yummy! These rich mini key lime pies are no-bake, gluten-free, and have a custard lime coconut filling. It's fresh, light, and yummy. Get recipe in below link.
32. No Bake Reese's Peanut Butter Bars
No-bake chocolate peanut butter bars are thick, rich, and delicious. Made from only few simple ingredients, these are a delicious treat anytime. In this easy dessert, smooth chocolate sits on top of a thick layer of peanut buttery goodness. They're fudgy, creamy, absolutely addicting, and tasty. Get recipe in below link.
33. No Bakes s' Morea Cheesecake
It's surprisingly simple. Perfect summer treat. This cheesecake recipe is not only ridiculously adorable and delicious, but super easy to make. A smooth chocolate marshmallow cheesecake on a graham cracker crust, topped with toasted homemade marshmallow cream! Homemade toasted marshmallow cream is amazing in taste and amazing in looks. Get the recipe in below link.
34. No-Bake Banana Split Cake
Banana Split Dessert is a no-bake recipe with a graham cracker crust, a cream cheese pineapple layer, strawberries, banana , and cream with cherries on top! This dessert is always a crowd favorite. It's perfect for events after dinner. You'll be absolutely happy with this dessert. Get recipe in below link.
35. No-Bake Pumpkin Cream Pie
This pie is very sweet, rich and fluffy. This looks amazing and one of favorite recipes. They're always amazing by the delicious results and easy to make and quick. This amazing Bake Pumpkin Pie is an easy pumpkin pie recipe that's no bake. Cream pies go down so easy and are so flavorful. Serve immediately. Get recipe in below link.
36. Pecan Rum Balls
37. Rainbow Jello Cubes
38. Reese's Stuffed Rice Krispies Treats
39. S'mores Grilled Cheese
40. Pretzel Turtles Treats