35 Unique DIY Shelf Ideas That is Actually Easy
You need something for storage?  You want to add a bit to your decor shelves are the amazing and perfect solution. We have a great collection of beautiful shelves you can easily DIY. They are frugal, easy, and will add beauty to your home and look amazing. We have a shelf for every room and every budget with the help of some tools. Whether you need something in the bathroom to store beauty supplies or in the nursery for baby items also cloths there is a shelf in here that is perfect for you and it's very easy to make. Select shelf in below list according to choice and make your home clean and beautiful with the help of wonderful and amazing steps.
1. Hexagon Honeycomb Shelves
You want to need new looking shelves?  Finally discover hexagon honeycomb shelves! This unique shape and easy ability to personalize and display decor is what immediately drew to these shelves. Right away I knew these would be the perfect solution and a great way to display beautiful shelves, small ceramics and live plants.
2. DIY Ladder Shelves
You want to need some unique shelves? Now follow easy and amazing given steps for making this beautiful ladder shelves and enhance the beauty of your home. This project is one of the best and wonderful shelves. You can easy to pick them up and move them to a new location whenever you like and look great.
3. DIY Industrial Pipe Shelves
DIY Industrial Pipe Shelves are easy weekend project that require no special skills or tools. Here is a budget-friendly step-by-step guide to make your own and perfect for wonderful looking. You create a fun storage options, add rustic charm to a kitchen, office or family room. See steps in below link.
DIY Project Details
4. DIY Easy Rope Shelf
It's surprisingly easy and not be expensive either and it also include all in all my favorite type of weekend project! It's looking great and to make your own you'll need a few basic things, a length of wood (my shelf is a meter width but you can cut the wood to any dimensions) rope, a drill and 2 large hook screws.
5. Copper Pipe Shelves
This is one of the most important copper pipe shelves for your kitchen or rooms. This idea of using metal pipes in new and ingenious ways, especially if this can help create some amazing and beautiful furniture for home decorations along the way. It's actually a wall unit with some separate shelves.
6. DIY Shelves with Belt Straps
You need some unique style shelves? It's one of the best for hanging wall shelves is such a great way to save space and put your favorite accessories on display. You need are some wooden boards, leather belts (or straps) and mounting supplies for making this project. These are just a really simple way to add some style and personality to your space for a great look.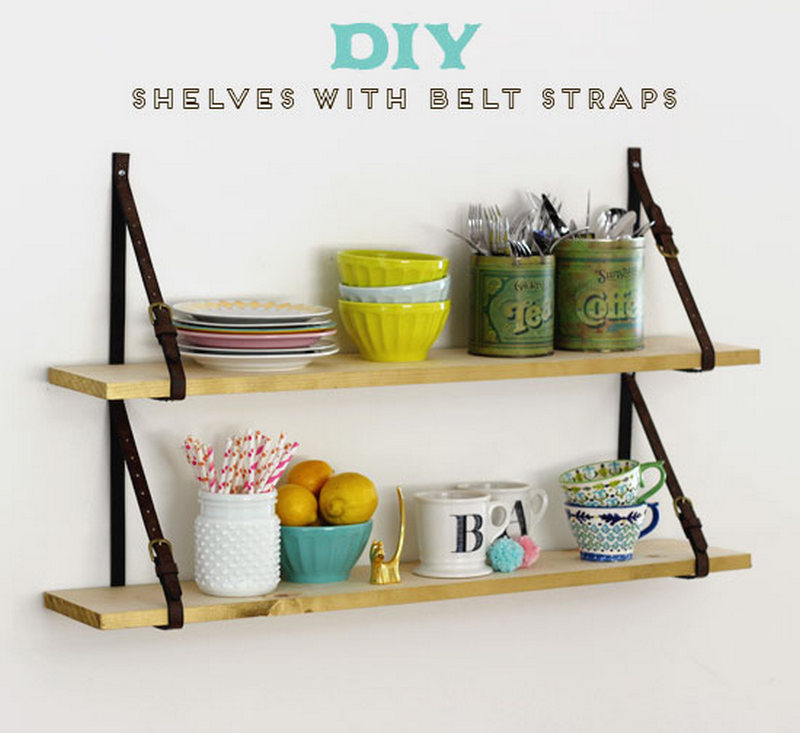 7. DIY Circle Wood Shelf
This amazing DIY shelf can be created with a small number of affordable supplies in a few easy steps. No drilling or sawing required for making this project! Some round shelving is a current hit, along with mixed materials such as wood and metal. It's look very great and beautiful.
8. DIY Floating Shelves
These DIY floating shelves are handsome, easy to build and inexpensive. And they're strong even though they have no visible supports required for project. They appear to float on the wall and no clunky hardware or brackets. We made them from only two parts like half of a hollow core door and a 2×4.
9. DIY Floating Driftwood Shelf
It's a one of the neat and simple driftwood wall shelf idea. You only need one plank of driftwood to create an awesome and simple wall shelf. You get some driftwood planks for creating a nice shelf for yourself. The driftwood shelf will surely look awesome on your wall and enhance the beauty of the home.
10. DIY Tetris Shelves
This beautiful DIY Tetris shelves will involve creating a DVD/book shelf that is stack-able in any number of configurations. You may recognize these pieces from something unique. This project does not require a tremendous amount of skill and tools, though it would be very helpful to have experience with some woodworking

11. DIY Turnbuckle Shelf
It's looking for the perfect shelves for storage above the toilet. I've been on the hunt for a good hanging shelves DIY project and saw the prettiest and great turnbuckle wall shelf. It's very easy to make and never required extra skills for making this great project. All need supplies to build turnbuckle hardware to create modern farmhouse bathroom shelves.
12. Easy DIY Floating Shelves
DIY Floating shelves are a stylish, beautiful and budget-friendly way to accessorise your home. Here's our easy guide for how to build floating shelves and look also great. DIY floating shelves are an easy woodworking project for someone who feels comfortable using power tools and our floating shelves DIY offers practical tips and reliable supplies that will help you create a truly custom decor piece affordably.
13. New Bathroom Shelves
The room is that many of us go to clean up often turns into the messiest, most cluttered space in the house. No matter the size of your bathroom but it's important to have a designated spot to house your linens, toiletries, and spare cleaning products. You easily turn your bathroom into a Zen zone with these organizing tips and tricks.
14. Wood Floating Shelves
This DIY Wood Floating Shelf project is a unique and great one for anyone looking to get into woodworking and for the more advanced, alike. It's very budget friendly, does not take long time to make, and they add a nice touch to any wall. It's easy to make within few time and perfect for enhance the beauty of the home.
15. Hanging Bathroom Shelf for Only $10
This is one of my new hanging bathroom shelves! You need some fun with work? It's perfect and I have struggled with this blank wall over the toilet in my very small powder bath for some time. So, I make this wonderful hanging bathroom shelf with very small budget and looking nice.
16. Nursery Room Book Shelves
This is a simple, nice, regular shelf, there are a few small details and characteristics which may or may not interfere with that. For example, like a nursery bookshelf tends to be smaller than other types of shelves or to have a design more similar to a sort of tray rather than a shelf so it can prevent items from falling off and look also great.
17. Chalkboard Cubby
You can make this great chalkboard shelf with basic, off the shelf materials, the most basic of power tools, with these simple step by step instructions. This free do it yourself furniture plan features diagrams, a cut list and shopping list and everything you need to help you make your own Pottery Barn furniture for a fraction of the retail cost.
18. Stacked End Table Shelf
I loved the geometric shape on the side because it's look great.  Unfortunately, I don't need any end tables or nightstands in my home for great looking.  But I didn't want to part with it because I really did like the shape for enhancing the house beauty.  So I decided it to would make a cool stacked wall shelf in my guest room.
19. Corner Shelving
There are some great possibilities which are practical, great and stylish. One example is the corner wall shelf which adds more storage to a space and also you easily display things on it. Today we're showing you a few of our favorite DIY corner shelf idea in the hopes that they'll inspire your home improvement and great project.
20. The Original Pallet Shelf Tutorial
This original tutorial is pallet shelf to recycle a discarded pallet into a very useful wall shelves. You can be certain that your pallets are clean and do not contain hazardous materials. Normally I don't let much get in the way of a creative spark for pallet shelf. So I get an idea and I go for it. This idea is very helpful.
21. Build Industrial Shelves
This DIY industrial shelf idea is suitable for multiple applications and will be durable enough to withstand heavy wear and tear and looks wonderful. Sort through all the inspiration photos and pick a design that will work for your home and enhance the home beauty. You're easily able to customize them to your space and get precisely the look you want.
22. DIY Floating Rustic Shelf
I love the open concept and it's a challenge to add character and interest into a space. I think nailed this one and I am super excited to show you this DIY rustic modern floating shelves that we built! I have to admit, I was a little hesitant at the beginning of this project, but it's absolutely love how they turned out.
23. Ladder Shelf
You need some great and decent shelf? It's a perfect and one of the awesome projects of the shelves. It's very easy to make and are handsome, easy to build and inexpensive. You try this amazing project in home and I hope you really enjoy this project with some skills.
24. Reclaimed Wood Kitchen Shelves
The keeping it so cozy and it Reclaimed Wood Kitchen Shelves. This would be perfect for some knick knacks and we made the reclaimed wood shelves that we hung as part of our big kitchen remodel, so we're finally back with every last measurement, stain method, and hanging tip use for making amazing project for kitchen.
25. How to Build a Floating Shelf
Floating shelves don't take up any floor space and fit practically anywhere and perfect for any place. No matter how big or small your home, there's a spot that could benefit from a little bit of added storage and it's also look great. Here are some ways you can DIY your own with your options for every skill level look great.
26. DIY Honeycomb Shelves
This beautiful honeycomb style shelving unit perfect for their home. This project is a little bit more involved because of the tools, but stick with it and you're going to have some amazing shelves look amazing. This DIY will make a three-comb shelf, and once you get the hang of it, you'll be able to make more combs to add to it according to required space.
27. Rachel's Rustic Log Shelves
This easy log shelf project seems like the perfect addition to a room if you're looking for a refreshing change in your home. Rachel found these great cut logs on a vacation and was smart enough to snatch them up and bring them home to create these display shelves for great look. It just goes to show elements in nature that we can bring into our home.
28. Shelves Opening Shot Styled
You comes to styling a long shelf, be it in a shelving unit or fixed to a wall, there are some basic rules and principles you can apply, in order to have them looking like the dreamy images. I'll break up the tips and ideas into bite-sized pieces, so you can get a better idea of how to style shelves more easily.
29. DIY Rustic Wall Storage Bins
Something that I can organize baby socks, shoes and hats in it's not to mention all the other random that we need to keep in the front closet. Since neither of them will leave socks on to save their laundry drowning mother's life. So, I decided to keep all their shoes and socks downstairs in the front closet and this shelf never required more space.
30. Door Repurposed Bookshelf
I made this bookshelf with old door. It looks great and very smart looking. This shelf never required extra space for adjusting in home. I'm holding the small cupboard doors with clamps to see if they were actually going to work one of a good way to do a dry fit on a repurposed furniture project when you're working alone.
31. Easy DIY Shelves
I love the look of open wall shelves and floating shelves because it's nice. They are super good looking, functional and DIY friendly and inexpensive. These cabinets are much more labor and material intensive. If you have a blank wall and a need for extra storage, wall shelves can be just attractive yet much easier to build than cabinets for enhancing home beauty.
32. Corner Floating Shelves
You are looking for floating shelves? Now this site might be a perfect choice for you. We can tell you that you are not the first person who has come here and that all the previous customers are satisfied too. These one of these shapes, colors and designs will be the best for you and also perfect for home.
33. Shelves Made With Paint Bucket
You really make this project with the hope of keeping the game room in order; I made those shelves with paint buckets. It's easy, great and economic to do, and it gives a place to store small's items. I like recycling bucket so if you are looking for more ideas like this idea. You really try this project for extra storage.
34. Wine Rack DIY
This DIY wine rack looks a little like the ones at World Market. It's simple and utilitarian. I'd probably paint it or put the assembly in a cabinet for great looking and cover extra space. It's easily make with few things required. It's budget friendly and inexpensive project.
35. DIY Shallow Shelves
You need more new shelves for your room? Now it's perfect for learning new storage space problems for everything from hidden shelves. If you want deeper storage, build the shelves 24 in. If you prefer to use plastic storage material, measure the size of the required material and modify the shelf and upright spacing to fit.