20 Very Easy DIY Window decorating Ideas
You should want to make the most of this incredible feature and frame your view with incredible decorations, and we are definitely not just talking about curtains. Windows are quite a special feature of any house and room, in particular way. They literally come in all shapes and sizes and they can serve many purposes with amazing decoration. Windows allow you to see beyond your house, as well as light and warmth or with a nice breeze – to come in. So whether you are remodeling and want to change the look of your old windows or simply feel the need to enhance them, we've got the right designs for you. Here are some Easy DIY Window Decorating Ideas to inspire your next home decor project or your old home project.
1. How to Wire a Mason Jar
There are so many uses for these easy, beautiful and enchanting DIY Mason jar lights, from everyday decorative lighting, wedding lights, indoor or outdoor decorations, to holiday lighting, and more decoration. These hanging Mason jar lights are almost free and easy to make. All you need are recycled glass jars some wires and / or dry cleaners wire hangers for make this beautiful project.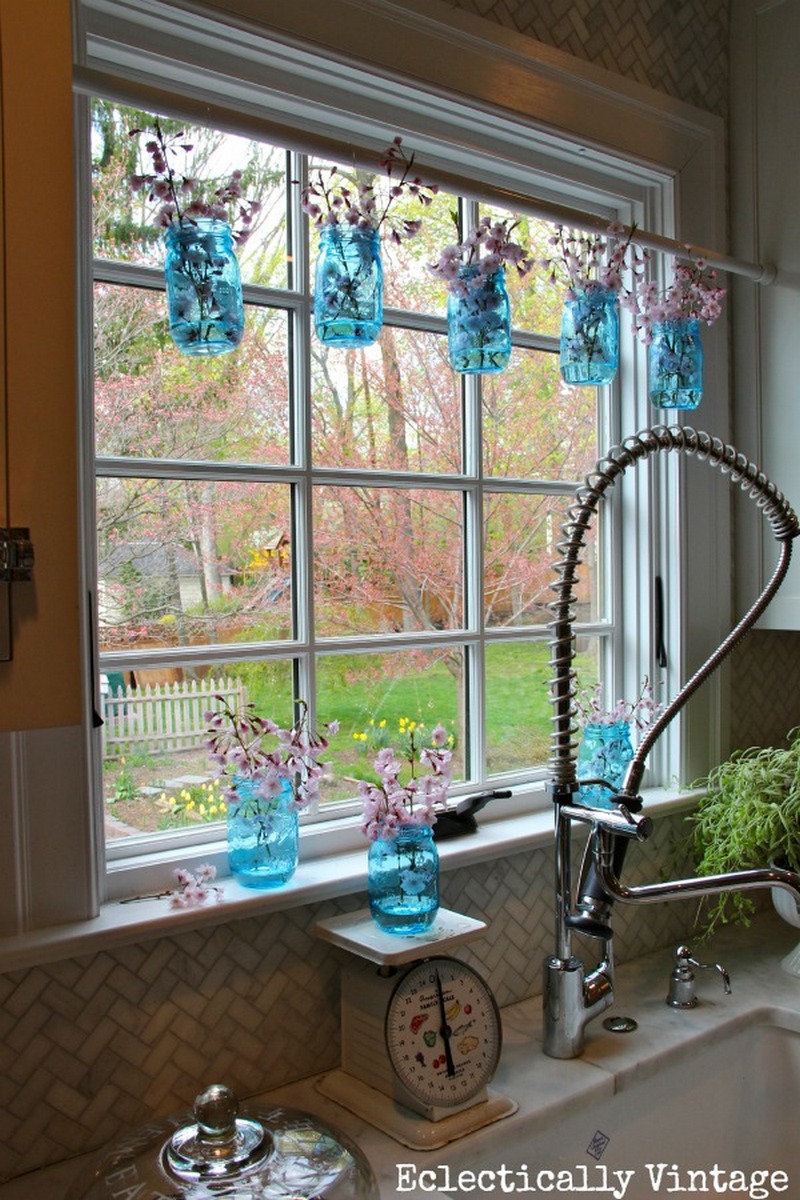 2. Stuff maker First cut
You want some different and unique stuff maker first cut look on your home windows? It's really very amazing and wonderful look and easy to make with free hand. This project also likes your kids because it's very interesting. You make different shapes according to your choice and make feel happy.
3. Funny Clowns Made Of Plastic Lids
Wow! The name of the project is full fun and enjoyment. You make this wonderful funny clowns project with the help of plastic lids and enjoy great time. You easily make this project with the help of given link. It's perfect for kids as a fun also project. See pattern of funny clowns in below link.
4. Tissue Paper Butterfly Sun Catchers
Do you like this? We made these beautiful butterfly sun catchers to catch the summer rays and look amazing. To make homemade stained glass butterfly sun catchers, you just need some tools like scissors, card stock, glue, and different colored tissue paper. See wonderful project pattern in below link.
5. Make Umbrellas Out Of Paper
You want to make paper umbrellas with easy way? Spring brings rainy days so it's a great time of the year to learn how to make paper umbrellas with great fun. These umbrellas are a fun project for the whole family specially kids. You can make them in one color or make them as colorful as the rainbow in the window. See steps in below link.
6. Windowsill Succulent Garden
Are you looking for an affordable and low-maintenance way to add some structural greenery to your indoor space? We thought so much! Succulents are an ideal plant choice for they're easy to grow, and as long as you have a sunny windowsill, you're good to go. Here are some tips on creating a versatile succulent garden for beautiful view.
7. Window with Upcycling Hanging Baskets
A hanging bottle pot is the perfect way to recycle an empty plastic bottle into something useful, interesting and creative! Not only does it prevent bottles from ending up in garbage cans, it is also an easy to convert in DIY project that can help you hang plants all around your house. Moreover, it requires less than 15-minutes to convert an ordinary bottle into a hanging plant container!
8. DIY Pallet Wood Vertical Blinds
This is a DIY Pallet Wood Vertical Blinds. It's easy to make and very stylish looking. It's a budget-friendly project with DIY pallet wood vertical blinds! These Pallet wood vertical blinds made of free pallet wood along with home improvement and also wonderful window look. See easy and amazing pattern in below link.
9. Birds on a Twig
You want new design of windows? The birds are vertebrates and have lightweight structure. Birds are warm-blooded with wonderful nature beauty. All birds, including flightless birds, have wings and amazing voices. These design of the birds on a twig so beautiful and easy to make with complete fun.
10. Hearts Day Decor
You want to like hearts day decoration on your home windows? It's so stylish and romantic. This project is amazing and easy to make with some accessories like paper, scissors and glue. Some pretty papers and few buttons very useful for enhancing the beauty of your home or room. See step by step instructions in below link.
11. DIY Anthropologie Knock off Flutter Curtains
This knock-off, while fabulous and wonderful, is a ton of work. And these curtains are no exception with that warning, if you want to make some fluttery, lovely, hardworking, slightly labor intensive curtains, here's the how-to. Select your curtains project according to your happiness or home decoration.
12. DIY Dip Dyed Curtains
You want new style of curtains? It's a DIY dip dyed curtains style with amazing lay lace on paper, spray with clear gloss spray paint, remove lace, paints with watercolors. It's very stylish and interesting project for enhancing the home beauty. See amazing step-by-step instructions related wonderful project.
13. Ruffled Burlap Curtain Tutorial
You want new style of curtain for home? This ruffled burlap curtain is one the great style of the curtains. To get a straight line with burlap you actually pull a string out from the weaving. When you cut burlap on a square you may think you are cutting straight but you pull until the entire thread is out.
14. How To Paint Curtains
You want to paint curtains? For color with serious hold, mix two parts paint and one part textile medium required for this project. Then, use painters tape to create a pattern and cover it all up with your color formula. Once everything dries, just peel the tape off to reveal your masterpiece with great look.
15. One Yard, No Sew Window Treatment –3 Ways
This window shade project only requires one yard and what is even better for beauty, it can be made without the need of a sewing machine. You made this no sew window treatment for kid apartment bedroom using only 1 yard of fabric. It's stylish and wonderful looking project. See amazing information for this project in below link.
16. Kitchen Window Treatment
This project is perfect as a kitchen treatment, which is packed with metal appliances and wood cabinets, window treatments might be the only source of softness and embellishment in the entire space. Here are the four things you need to consider when choosing kitchen window treatments for completing this project.
17. In an Instant No Sew Window Treatment
This is truly the easiest and amazing no sews window treatment I have ever posted. It is done with a sheet, not a flat sheet that you see made into easy no-sew panels with a fitted sheet.  You really like the pattern and plan to use the set as fabric yardage. It's one of the amazing projects with great time.
18. DIY Greek Key Curtain Panels
How to get a super luxury look on a budget? For the longest time, people have wanted to get some of own Greek key trim curtains. But, most of them are really expensive project and especially custom curtains. So I found my own solution! So scroll down for full sources, and the step-by-step tutorial because I know you want all the details! See steps in below link.
19. Behand Lace Rose
You want some new lace rose project? It's easy to make a rose from a yard of lace in just fellow few steps! Lace roses are a beautiful accent to clothing, shoes, hairbands and other crafts making beautiful. Let's get started this beautiful project with some accessories. Click on below link and see step-by-step instruction.
20. Ruffled Curtains
I make sure they are the flat sheets and not the fitted. Wall-Mart also has some other great colors required like cream and pink if you want to change it up. You could also do this with just regular fabric with less expensive to get overwhelmed with large amounts of fabric in front of me. So the sheets are a good jumping off point for great project.