35+ Beautiful DIY Lantern Ideas To Add Life To Your Home
Do you want something interesting and unique for create your home more beautiful? Those ideas are perfect and easier for your home. You easily create those lanterns with the help of recycling those things like glass, plastic, tin cans and cardboard. You really enjoy this turn trash into treasure by recycling a few common household trash items into beautiful DIY lanterns. These different easy lantern ideas waiting you for will brighten your home with just a few cans, bottles, cardboard cartons, unwanted baskets, or jars. Select your lantern style and start to create with easy instructions given about your lantern style.
1. DIY Wood Lanterns
Do you want something simple and beautiful? It's one of the best idea is a very simple DIY project that requires minimal experience and tools so if you're wanting to make your own centerpieces or add as a decoration for your next event this is one project to consider. See tutorial of this idea in below link.
2. DIY Tin Can Lanterns
Do you want beautiful backyard with some of these gorgeous tin can lanterns? You really like this idea because these DIY tin can luminaries are so very easy to make, and they're a great recycling idea if you go through a lot of tin cans. You place a candle inside and it glows through the holes and you can also do these with clear lights.
3. Luminaria with Kelly Wilkinson
This project is one of the amazing and interesting too, which is full of beautifully style super easy and perfect for your kind. You easily make this wonderful project with the help of tutorial; you could clearly go crazy on design choices here. See helpful and great tutorial in below link.
4. DIY Rope Lantern Vases
Do you want lantern as a beautiful vase? It's great and you use as different styles like jewelry findings rope, nautical vase, as outdoor lights, jar lights etc., add rope handles to simple vases. They are really nice and you can make these trendy cuties in 15 minutes flat. It's a super easy project.
5. Mason Jar Lantern with Beaded Handle Craft for Kids
This craft is perfect for kids making this Mason jar lantern craft using just a few simple materials. People love crafts that allow for learning as well- creating this gorgeous beaded handle provided the perfect opportunity for fine motor practice. This is definitely one of our favorite crafts for kids and interesting. See tutorial in below link.
6. Summer Camp Paper Lanterns
Do you want some crafts with kids in summer camp? Crafting with kids is one of the best and refreshing things. They love being creative and having crafting time while work on projects. One of favorite crafts to make is paper lanterns especially most people like to make them for holidays! See pattern of craft in below link.
7. DIY Summer Hanging Jar Lantern
This is perfect summer time for outdoor entertaining crafts and also hanging jar lanterns are a lovely way to light up the yard and ! They would even be a pretty decoration for an evening wedding or events. These are very easy to make and can be used as hanging lanterns or sitting on table for enhancing the beauty. These DIY Hanging Lanterns are so versatile.
8. Valentine Tin Lantern
This adorable DIY tin lantern project is great and uses recycled craft supplies to make a beautiful Valentine lantern. They are perfect for a rustic wedding, events or Valentine's Day. You easily learn how to make an easy recycled lantern from a tin can! See wonderful tutorial in below link.
9. New DIY Wood Lanterns
This is a very simple DIY project perfect for any skill level and makes a huge impact in the reception space such a fun project that you can make well in advance of your wedding day and have them ready to go and wonderful DIY wedding decor idea perfect for that special day or for any event really as a shower, holiday table, special party, birthday.
10. DIY Winter Solstice Lanterns
This is perfect craft and it would make the perfect holiday gift to make with kindergarten kids. Absolutely beautiful! Have a wonderful week together with your family creativity and know how that you have. People love looking at your site and finding all fun creations you have made. See pattern in below link.
11. DIY Outdoor Cube Lanterns
The summer is perfect time of outdoors craft with friends and family and brightens up your outdoor living with these colorful, unique and full of fun cube lanterns that will be great accessories for even the smallest of spaces of your home. It's easy and wonderful craft. See tutorial of the craft in below link.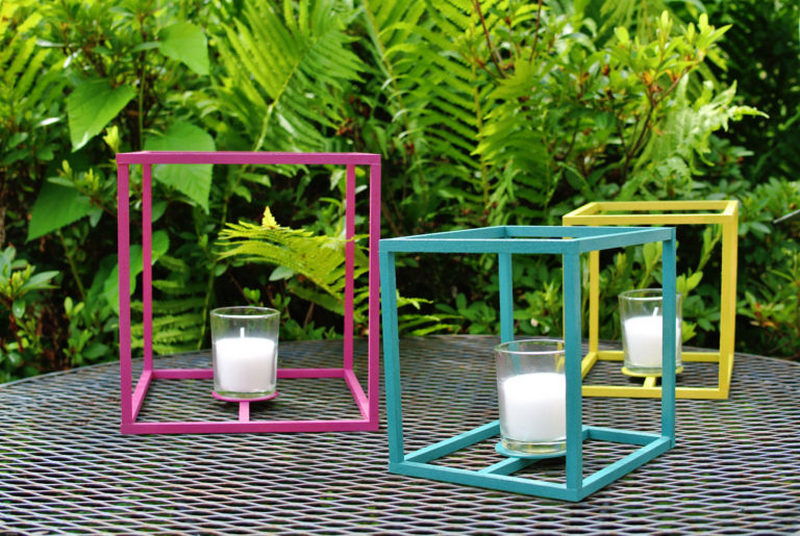 12. DIY Ice Lanterns
Do you want something interesting in darkest nights? It's incredible for the wonderful darkest nights of the year, it's important to add as many spots of light as possible, and add a little light to warm the night outside to make more beautiful. A trio of ice lanterns will welcome guests and its wonderful craft. See pattern of this amazing craft in below link.
13. DIY Mason jar Tiki Torches
Do you want something interesting? This beautiful craft is perfect for making something a tiki torch out of a mason jar is very simple and requires only a few supplies and about 4 very simple steps for you find yourself with an overwhelming amount of mason jars, go ahead and try turning them into tiki torches.
14. Charming Summer Fairy Lanterns
These charming fairy lanterns are not only difficult to make, its wonderful craft and also looking adorable in a garden or when used as a night light. They'll be sure to spark your child's imagination with great fun. You make this fairy lanterns with 5, 6 ingredients. See tutorial in below link.
15. Fall Leaf Lantern
This craft is perfect for cold weather because cooler weather means Mother Nature is getting all dressed up in her finest colors! You really enjoy the celebration of the beautiful season with your little ones with this fun autumn leaf lantern craft and it's too much interesting. See pattern of this craft in below link.
16. Make Lanterns from Scrap Wood
Do you want to make something that was easy and that would look good on the patio? You really try this easy and good looking lantern. These scrap wood lanterns can be made in a variety of sizes according to choice once you get the technique down. See wonderful tutorial in below link.
17. Awesome Scroll Saw DIY Lantern
This awesome scroll saw DIY lantern project is a part of wonderful projects. Make sure you find this interesting and full of fun project for creativity. It's perfect for friend's team creative lantern and lighting projects. You easily make this lantern with useful tools. See tutorial in below link.
18. DIY Wooden Lantern For Indoors or Outside
This tutorial easy to create the perfect outdoor new look setting by adding a wooden lantern or set of wooden decorative lanterns for your summer backyard entertaining with unique style. This lantern since it works beautifully indoors or outside project and it's also the perfect candle centerpiece for a pretty outdoor tables-cape.
19. Two DIY Lanterns from Only One Board
This is the layout for one lantern and you will be making two, so double these pieces to take a look at the layout of your cuts. This project is finish with power tools and to make these shorter as well so you can create an arrangement of varied heights. You have fun with it!
20. Upper Style Hanging Lanterns
They're super easy to make if even you only have very basic, beginner level DIY skills.  All you need is a screwdriver and some stain to make this wonderful project, as long as you get your wood cut to size at the home improvement store ahead of time and it's all of the textures, colors and layers that are so beautiful.
21. DIY Barnwood Lantern
Do you want something new with barn wood project? Have some old barn wood lying around but aren't sure what to do with it, so try your hand at a rustic barn wood lantern. It's a fast and easy project with full of enjoyment. See amazing lantern tutorial in below link.
22. DIY Wood Lantern Tutorial
This project is perfect for Christmas break because it was a fun consuming project because you have to let all the wood glue dry after every step.  We use FYI glue in this project, FYI glue doesn't dry very quickly when it's cold and wet outside and just like the weather we had all Christmas break. See tutorial in below link.
23. Japanese Paper Lanterns with Spring Flowers
The great project about these Japanese paper lanterns is how darn easy they are to make! They are just one piece of paper, with four smaller rectangles for the making these lantern windows. You can decorate it in any way you like you put pretty pink cherry blossom flowers on mine. See tutorial in below link.
24. DIY Flower Paper Lanterns Tutorial
Do you want to create dreamy and colorful paper lantern? It's project is amazing and that looks natural.  These beauties can be used for party decorations, spring celebrations, bridal and baby showers, wedding and reception decorations, birthday parties, or even decoration. See online tutorial in below link.
25. DIY Solar Paper Lantern
These lanterns are very easy and simple. Only few time required for this beautiful idea, our screened porch and backyard are where we live all summer.  Every person goal is for the outside to be as comfortable and home always turning on dimmed lights and lamps in all the rooms so that they are wonderful welcome. See tutorial in below link.
26. DIY Sea Glass Rope Lantern
Do you want something unique with sea glass? It is the perfect addition for any beach coastal decor.  People will be using it in summer coastal tables-cape which you will get to see soon!  After that it will take its permanent place in our coastal them bathroom with the perfect jar to use.
 27. DIY Solar Mason jar Lantern
This is a great project for people with amazing skills and it's completely wire free and very useful too. You can make this within a few times. This is an inexpensive and easy way to add charm to any outdoor space which gives off beautiful glow well after the sun sets and also it is perfect gift for your beloved and the most important thing is, it is environment friendly.
28. DIY Mermaid Lantern Jar
Do you want mermaid lantern Jar? It's nice and they are all stunning, magical and simply fabulous. It is so precious DIY Mermaid Lantern Jars! You take as the magic under the sea with this beautiful DIY mermaid room decoration and this is good enough to decorate your home at look stunning.
29. DIY Mason jar Lanterns
People like summer season for creativity and it's perfect for entertaining.  You create some beautiful Mason jar lanterns to use for some of our summer parties and events.  You made some candles that mold inside toilet paper rolls!  This made the perfect sized candles to fit inside the Mason jar lanterns and looks beautiful.
30. DIY Lantern Terrarium Tutorial
This lantern is beautiful and the beauty of this lantern is the clean lines and simple shape of this lantern and had the thought that it would make a very pretty terrarium. You really like the pattern of lantern came out, and the best part of the lantern is you don't have to worry about your plants dying! You want to make one for yourself? Let's do this!
31. Fairy Light Lantern in 5 Minutes
These absolute cutest fairy light lanterns are looking awesome.  It's a super easy 5 minute project and it makes a gorgeous lamp or night light for your home decoration. This is so, so easy and it's one of my favorite lamps in our home. You try this project and make your home more beautiful. See tutorial in below link.
32. DIY Lantern from Dollar Store Supplies
Do you want some cute lantern? They look super cute. They definitely look great on your dining room table, and you can display candles inside or change up what's inside for different seasons and holidays. In this idea you use and grab your sticks into take them apart, and then glue the pieces together into a lantern design.
33. DIY Lantern from Dollar Store Frames
This project that is inexpensive yet looks nice and can be used for any season, or just to have as part of your home decor. What's even better is that you're turning something as mundane as dollar store frames into useful lanterns! A candle lover, this one is for you! It's very pretty.
34. Turn Old Frames into a Lantern
We use this project as inexpensive 8×10 frames, a lantern top. Don't worry; you have to do this project. You will need some scrap piece of 1 inch plywood for the base of the lantern. The frames were just under 9″ in width, and the base is about 11 1/4 square. See tutorial in below link.
35. Power Outage Kit And Emergency Lamp From A Clock Box
36. Make A Lantern Out of Clothespins
37. Easy DIY Decorative Lantern