50 Easy And Simple Halloween Crafts For Kids
When i was a kid I always like fancy Halloween decoration. But these decorations were so expensive that my parent can't afford this type of Halloween decoration except Halloween costumes. So i thought why not to make thing easier for you where you all can make these Halloween things in inexpensive way with your children for making your Halloween holiday more precious. With these types of craft you can make spooky decoration with recycled item.  You can make your Halloween holiday more interesting by make these spunky little things with your family and friends.
1. Halloween Haunted House Lantern
Do love Halloween? Oh silly ol' me' of course you love Halloween, If you don't love Halloween you wouldn't be here searching these spooky little haunted house, right? This little haunted lantern house is spooky. You can make those haunted lantern for your porch entrance for making your entrance spunky. For making this lantern you needed popcorn box and some real candles for lightning and paint. For detail click the link below.
2. Hand Print Kids Craft
Did you see how this little ghost is saying Hi to you? Even you can make those hand print craft with your preschooler. You just need some black paper, paint brush, glue, paint brush and some googly eyes. For making those spunky craft click on the link below.
3. Halloween Slime
Now a day it's like festival is going on for slime. Everybody from toddler to older is making this squishy slime. Even you can make this slime and can store them in any glass jar. You can decorate this jar for Halloween by making different faces on the jar with papers. For making these types of slime and jar see the DIY tutorial below.
4. Paper Plate Ghost Craft for Preschoolers
It is very easy and simple craft. Your preschooler can make those craft easily. Those paper plate ghost craft is a good activity for children. They can entertain there self by making those plate ghost craft. For making those plate ghost craft you need paper plate, tissue paper and tape. For making those ghost plate see the link below.
5. Glittery Pumpkin Mason Jars
Aren't they are spooky? These little glittery pumpkin mason jars will look good on your entrance table or in your lounge. You can store your treat in those glittery pumpkin jars. For making this type of glittery pumpkin jar you needed acrylic paint and mason jars. Acrylic paint can make your jars look smooth and glittery. See the link below.
6. Easy Pumpkin Craft
Make your own pumpkin craft with easy and simple steps. You just need skill that you know you have so make use of your skill and make those paper pumpkin craft. Make those pumpkin craft with your children and put them in your garden. For making those craft see the link below.
7. Paper Jack O'Lantern
Look spooky right. Make your own paper Jack O'Lantern for your Halloween holiday. These craft are simple that you don't need any extra skill. You just need some orange paper , glue and strings. For making those craft click the link below.
8. Paper Plate Spiders
Didn't that look spooky and horrid? These spider look like that they are crawling toward you right. Make those Plate Spiders to make your friend sacred in this Halloween. You just need paper plate that you can easily found in your parties and those googly eyes. For making those plate spiders see the link below.
9. Build Your Own Pumpkin Craft
Your toddler can make those craft own their own. Build your own pumpkin craft with paper plate, paint, black paper and green pipes cleaner. It is a good way to interact with your children. For more detail see the link below.
10. Paper Spider Craft
Make these paper spider crafts with your preschooler. If you are teacher, than you can give this type of activity to your student for holidays. It is super swift and easy paper spider craft. For making these 3-D spiders you needed some paper, scissor, glue and small rope and for more detail see the link below.
11. Easy And Fun Mason Jar Lid Spider Craft
Doesn't that look spooky? Like there's an enormous fat spider is resting upon your jar lid. you'll build those spider lid jar and might place it on your room counter for giving Halloween Eve look. This craft step is extremely simple; you only need jar fastener and recycled paper. See a lot of step within the link below.
12. Halloween Spider Craft
You can make those foamy spider craft with your daycare kids. It is a finest way to make children learn the itsy bitsy spider poem in daycare. This type of activity can make children mood cheerful and that they are going to be simple to handle. For making this foamy spider the supplies that needed are glue, foam balls and googly eyes. For more supplies see the link below.
13. Neon Mason Jar Mummies
Those jars look like that they have come from Mummy movie, right? You can build this jar and might place it in your table for giving Halloween look. For make those jars you need Mason jars, bright color tissue paper, Glue stick, Googly eyes and for more instruction click the link below.
14. Halloween Mummy Craft
Look horrid and spooky even you can make those types of tissue paper roll mummies craft with your youngster. Look at those googly eyes that are looking at you. These craft material are simply easy you can find this material easily at your houses. Material that needed is tissue roll, tissue. googly eye and sponge and for further material item click the link below.
15. Paper Bag Halloween Witch Craft For Kids
This paper bag witch looks kooky. Aren't this green witch is adorable. Even you can make this kooky witch with your children. Grab your youngster and make that paper bag Halloween witches with them. For making those witches you just your crafty mind and the material. For the detail click on the link.
16. Playful Paper Plate Halloween Craft
This witch look like it come Flying from Tom Jerry cartoon. These types of craft are simple and swift. So what are you waiting for grab your kids and use your magical hidden skill which you have to use for this type of thing. The supplies for making this playful paper plate witch are paper plate, googly eye, and black marker and for more detail click the link below.
17. Paper Plate Witch Craft For Halloween
This witch is jolly. You can make this type of non-spooky witch for those who are afraid of ghostly and spooky witch. Even they can help you in making those witches. So grab your youngster and make these jolly witch craft with paper plate, small wood slice, googly eye and pony beads. For more material see the link below.
18. Hanging Bat Craft Halloween for Kids
Look catchy right? Imagine this bat craft in your house this Halloween your children will be so happy to see the bat hanging in their house. You can easily make this bat craft. It can easily manage with your budget. Material for this craft is Tissue roll; Googly eyes, marker and glue .For Material see the link below.
19. Black Cat Craft For Halloween
This black cat looks like the one in Grudge movie but with lovely look, Right? This cat is catchy for festival like Halloween. You can make this cat ant can put in your porch for Halloween decor. With the little help of your preschooler you can make this black cat. Supplies are Scissor, different color paper and white pencil. For more supplies click the link below.
20. Easy Pinecone Bats
This is the easiest craft i have ever made. This is also inexpensive you can simply find these thing in your home. For making this kooky Pine-cone bat the material that we needed are black felt, scissor, hot glue and of course the most important weapon of the craft Pine cone for more discussion see the link below.
21. Pumpkin Painting
Aren't these pumpkin are charismatic. You can place that pumpkin in your entrance of your garden. You can give this type of activity to your kids for passing there time. The Kids will be excited to paint this cute little pumpkin. For making this, you needed Pumpkin (that you can easily find them in your grocery stores), brush and different color paints and of course your toddler who is going to paint these pumpkin. See the link below.
22. Halloween Kid's Art Projects
These craft are wonderful for Kids Art project. You can even give these type of craft to your preschooler for their holiday home work. It is very simple and interesting activity for you preschooler. For making these Art craft see The DIY tutorial below.
23. Googly Eye Sensory Bag
Look Creepy and Spooky right. That Googly eye Sensory craft bag will surely spook your friends because of its creepiness. For making this DIY you needed Zip lock bags, googly eyes, shower gel and sticky tape. For more detail click on the link.
24. Frankenstein Sun Catcher Craft for Kids
For the Frankenstein lover we have make this especially for you. You can stick this Frankenstein sun catcher to your window for giving in Halloween vibes. Make these Halloween decor with your kids for this Halloween. These are simple and easily affordable. Supplies are green tissue paper, contact paper and scissor. See the DIY tutorial for more detail.
25. Halloween Ghost Bowling Game
Do you love bowling? Know you can make this cute bowling game at your home for your kids. Because you how expensive those bowling game can get. Hey! Kids make this cup ghost bowling game for your entertainment. For making these ghost bowling game you just need plastic cup, marker and soft ball. See the DIY tutorial for more detail.
26. Easiest Halloween Playdough
See this play dough. Even you can make them it is so simple and has no cooking recipe just some tiny little steps that you must follow for making this play dough. For first step of making play dough you need flour, water, salt and vegetable oil and for second step you need to make this small stick plaything material are tooth pick and bat pick. For more see the link below.
27. Masking Tape Mummy Halloween Craft For Kids
Do you like this dead mummy kids? Now even you can make this masking tape mummy for your Halloween. But without guardian supervision you cannot make this tape mummy. So kids what are you waiting for grab your real mummy or any guardian and start making those masking tape mummy. See the Tutorial link below.
28. Q-Tip X-Ray Craft for Preschoolers
Skeletons are the most important characters of Halloween. This Halloween make your own scary X-ray bony Skeleton hand. This is best activity for preschoolers. You just need Black construction chart, white chalk dust, and few Q tips, glue to make this horrible Q-tip X-ray skeleton hand. Get the details by clicking on the link below.
29. Cotton Ball Ghost Craft
Garrr! Ghosts are here to make you feel frightened. You can easily make these cute horrible cotton ball ghosts at home without too much cost. You just need few cotton balls and black construction paper and white chalk to make these horrifying ghosts for Halloween. Get the details of this Halloween craft by clicking on the link below.
30. Easy Spooky Halloween Cookies
Do you have ever want to create some festive Halloween cookies but using royal icing is just too much trouble? You try this recipe of Halloween cookies because it is actually easier than royal icing. You follow these easy steps and you'll have some spooky cookies of your own. See tutorial in below link.
31. Cardboard Zombie Halloween Craft
Do you have notice that Zombies lack representation within the kids craft niche? Witches, vampires and ghosts can be found. Now you try fancy and something different, like a Zombie. You apply decent kid-friendly craft in this Halloween party. See amazing tutorial about cardboard Zombie craft.
32. DIY Mini Halloween Doodle Books With Free Printables
These crafts are perfect for a Halloween party with Print out multiple copies, some colorful card-stock pages and set out in stacks. Kids love it picking their own pages and assembling themselves and its a great favor for them to take home. See tutorial about project in below link.
33. Sugar Skull Rocks Using Puffy Paint
These wonderful puffy paint sugar skull rocks are a great project for all ages to help learn and celebrate Day of the Dead. You try them this craft especially with Halloween approaching. You're going to have so much fun. They are addicting to use on rocks! See tutorial in below link.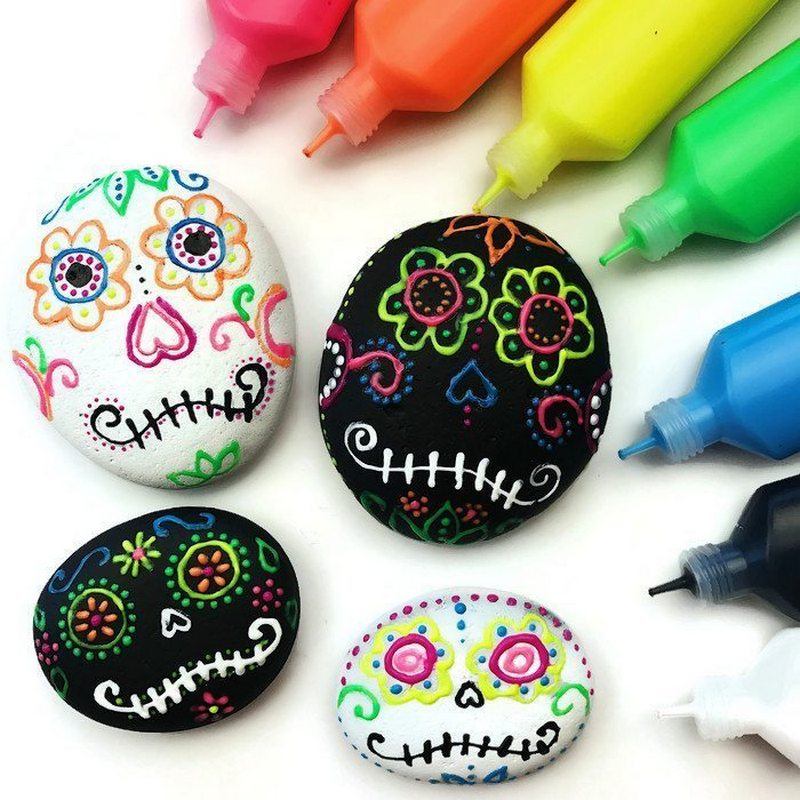 34. Day of the Dead Skulls!
This day of the Dead Skulls pieces are inspire by the meaningful Mexican holiday. Which time is for remembering and celebrating our love ones who have passed away. You make this craft easily with few required items. Click on below link and see DIY Tutorial about this project.
35. DIY Mini Lawn Flamingo Pumpkins
I have been so excited to share this one amazing craft because we're making lawn flamingo pumpkins. Now you ready to decorate their place with these now? Decorate home with use a little flamingo pumpkin addition. You really try great mini lawn flamingo pumpkins idea for enhancing enjoyment in Halloween.
36. DIY Punny Halloween Dish Towels
This Halloween try this creative and wonderful craft of making scary Halloween special Dish towels. You just need scary Halloween stickers, iron, and three dish towels to make these wonderful Halloween dish towels without too much cost. Get the details of this Halloween craft by clicking on the link below.
37. DIY Emoji Ghost Balloons
What is your favorite emoji? One of my favorite emojis is the ghost. We come up with some ghostly Halloween ideas are replace the normal ghost image with the emoji ghost. We obviously have to kick everything off with a balloon DIY! This project is one for all of you Halloween haters should love too.
38. DIY Rainbow Spider Web Wreath For Halloween
Why you not try rainbow spider web wreath for Halloween along with it? It's really simple and quickly make within just 15 minutes or less. You using this craft as a wreath hanger and await the delight and awe from your neighbors as they see the colorful Halloween rainbow. See tutorial in below link.
39. Felt Candy Corn Garland
Do you like decoration with felt candy corn garland? Decorate your mantel or shawl for Halloween with this delicious candy corn garland. It's looking great. You make this cute felt candy corn garland easily with the help of DIY Tutorial. You cut piece with a Circuit or by hand and stitch quickly together on your sewing machine.
40. Neon Paint Dipped Pumpkins
HI Kids! It's time to use pumpkin to make some interesting horrible crazy . You can easily make these mentioned below Halloween pumpkin by using white spray paint and neon American paints to make horrifying neon paint dipped pumpkins at home. Get the details of this Halloween craft by clicking on the link below.
41. DIY This Easy Halloween Decoration
This Halloween make inexpensive and durable Decoration that is ghost lantern. Now you can easily make this ghost lantern by using simple lantern white paper, white chalk, light bulb and black marker. This lantern horrible ghost for Halloween decoration makes your Halloween party funny and enjoyable. Get the details of this Halloween decoration by clicking on the link below.
42. Friendly Ghost Craft for Halloween
Kids now you can easily make these cute little horrible friendly ghosts for Halloween decorations. These friendly ghosts are so simple and inexpensive to make. You just need white spare handkerchiefs and turn these handkerchiefs into little horrible friendly ghosts. Get the details of these cute friendly ghosts for Halloween by clicking on the link below.
43. DIY Floating Witch Hat Luminaries
This Halloween decorate your front porch with these horrifying floating black witch hats. You can now easily make these hats at home. You just need black paper cards and threads, scotch tape to make these Halloween witch floating hats. Get the details of this hat by clicking on the link below DIY Tutorial.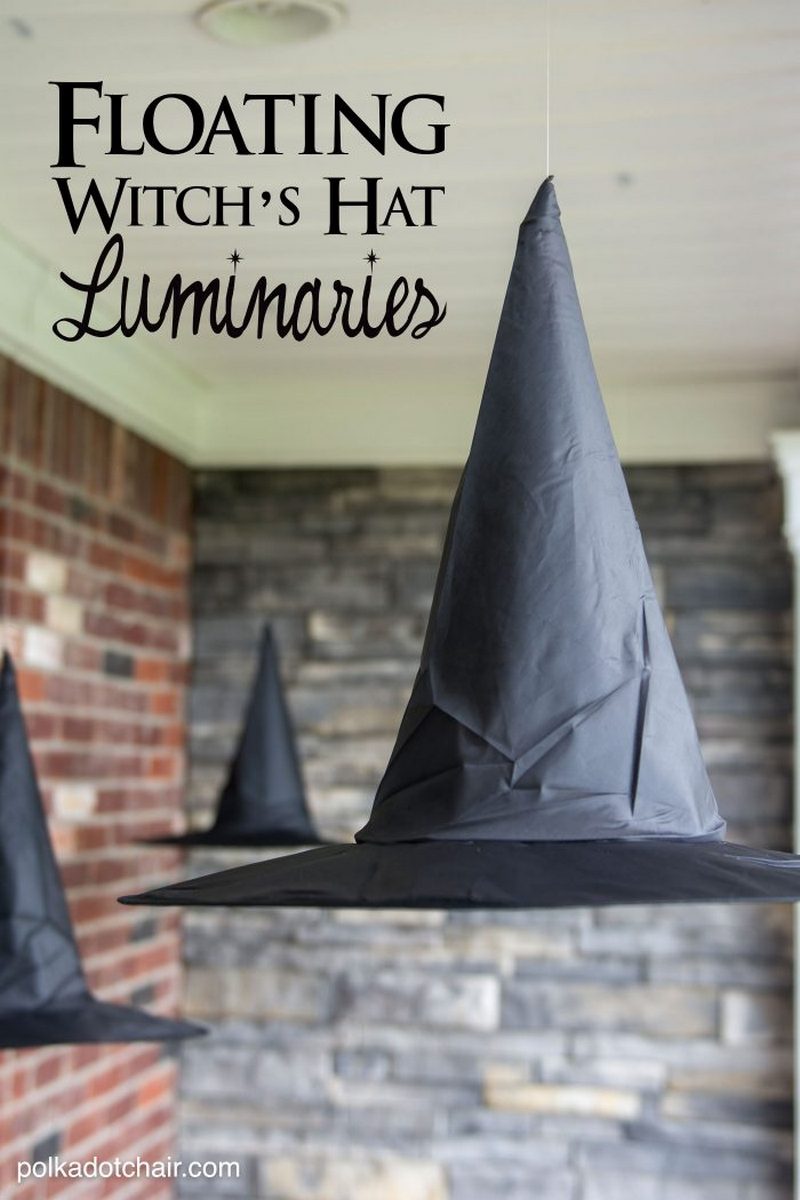 44. Halloween Haunted House
Halloween haunted eating house is devilishly scary house. This haunted Halloween house is deliciously made up of sweat candy, chocolate and cookies. You can also make this lovely treat pack of Halloween scary house at home. You just need block of chocolate, sweat candies and biscuits or cookies to make this delicious Halloween haunting house. Get the details of this delicious scary house by clicking on the link below.
45. Light Your Porch With Pumpkin Lanter
Pumpkins are always be important part of Halloween celebrations. This Halloween make some scary pumpkin lantern to illuminate your house porch. You just need 2 hallow clean pumpkins and light bulbs, cutters to make these horrible pumpkin lantern for Halloween decoration. Get the details of this pumpkin lantern by clicking on the link below.
46. Cover Your Front Door with Bats
Do you really like scary bats on Halloween day event? This Halloween make your own Halloween bat's at home to decorate your front door. You just need black card board, scissors and glue gun to make these scary Halloween bats. Get the details of this project by clicking on the link below.
47. Halloween Fairy Garden
This Halloween make your own wonderland which is Halloween fairy garden, without fairies Halloween celebrations can't be done. You just need spare black bucket, Halloween miniatures, color clay, artificial flowers. Witch could on to make this scary Halloween fairy garden. Get the details of this fairy garden by clicking on the link below.
48. Halloween Candles
Halloween is the special occasion for everyone. This Halloween paint some scary and horrible candles to scary your friends and fallows. You can easily available candles from market;  you just need to paint your favorite horror characters on the plain candles to make them Halloween decorations. Get the details of this candle by clicking on the link below.
49. Halloween Decorative Pillows
Halloween is coming its time to decorate your home interior for Halloween celebrations. You can easily turn your plain available pillows into horrible and scary Halloween decorative pillows. You have easily available cheap Halloween stickers from market; just apply these stickers on the cotton pillows for Halloween decorations.
50. Glittering Halloween Witch Door Decoration
Ha ha ha! Scary witch is here to scare you on this Halloween day. Now you can easily make horrible glittering Halloween witch for outdoor decorations. You just need one huge paper of hard card board and scissors and to make this Halloween witch for your front door decorations. Get the details of this Halloween craft by clicking on the link below.