50 Easy And Best DIY Kitchen Decorating Projects
Now it's time to decorate your kitchen in new looks with great creativity. It's too much amazing work, full of amazing ideas and wonderful experience. We got many quick and easy decorating tips for your kitchen. The best part in these kitchen decorating ideas are mix and match beautifully and looks amazing. It's time to make a change. In below given list amazing and wonderful ideas of the kitchen decoration is available. Select your best decoration idea and apply on your home kitchen with the help of easy instructions. It is the best time to take a quick glance at your kitchen.
1. Paint Cabinets The Easy Way
Are you bored with your kitchen because of old fashion paint? It's time to paint your kitchen with this new idea. It is very simple.  You need not any professional skills to do this, just click on below link and see wonderful tutorial for the fastest and easiest way to paint your kitchen cabinets.
2. DIY Rustic Wine Rack
Due to lack of space, do you have to face the tightness to keep the win? This wine rack looking beautiful and you hang the wine rack on the wall for secures the place. It's is easy to build with great skills. You can hang the few nice bottles in the cabinet and any many other things and it looks also best. Click on below link and see details about rustic wine rack project.
3. Wood Mini Coffee Station
Do you like the coffee too much? So should make your own coffee station at your home. It's time to build your own coffee station in home brewing station in your kitchen. It's satisfying and great idea. See details about project in below link.
4. Upcycle Old Rake Head To Rustic Utensil Holder
This is a pretty, new rustic utensil holder to complete our kitchen face-lift in our old farmhouse! It's looking beautiful and builds easily in home. It's best idea to hang the kitchen utensils on the rake and the pot holders on the hooks. See details about project in below link.
5. DIY Menu Board
This is great with amazing fun and easy DIY menu block idea. You can make it within 30 or less than 30 minutes, this menu display will show your family what to expect for dinner while helping you plan it all out. DIY menu board is interesting creativity. See interesting detail about project in below link.
6. DIY Pallet Coffee Cup Holder
Are you worried about the space for your cups? This beautiful pallet coffee mug rack is easy to make and can be fit in almost any style of kitchen decoration. Basically coffee mugs are one of those household goods that always seem to be around. Click on below link and see easy and wonderful instructions about pallet coffee cup holder project.
7. DIY Pallet Pot Rack
This is a great idea which seems a natural given the slatted structure of wooden pallets. It looks amazing and unique. On the top of the rack can be used for additional storage of things that are too large to hang. Click on below link and see easy details about project of pallet pot rack.
8. DIY Farmhouse Produce Rack
What an awesome idea! do you really need a system for our veggies? You have to now go find some baskets and share with friends. This is best way to store your fresh fruits and vegetables without taking up valuable counter space. See details about project of farmhouse produce rack.
9. Pantry Organization Labels
Do you forget which of the item is store in your jar? The spices are label and in jars, the problem is to keep them visible and easily accessible. This is the best way to keep them visible. Click on below link and see details about Pantry organization labels.
10. Free Standing Chalkboard Door Project
It is really looks so great. Easily make chalkboard door project within few time.  You can get more chalkboard paint and other chalk paints easily for enhancing the beauty of the chalkboard. It's less expensive and wonderful creativity. This is a great idea you should really try it. Click on below link and see instructions about amazing project.
11. DIY Metal Letter Industrial Kitchen Sign
The sign of kitchen is looking great and help them to enhance the beauty of your kitchen. It's a really amazing feeling. This is so much fun being able to take our time in this house. Click on below link and see details about how to make amazing metal letter kitchen sign in home.
12. DIY Pallet Wood Light Box
Basically the kitchen is the biggest eyesore and also a doozy to remodel! This idea of wood light box is unique and also looks great. You have an awkward space that needs lighting or an off center fixture, this idea is definitely post for you. See project details in below link.
13. DIY Ladder Pot Rack
This is great idea and wonderful looking also. It's the easiest thing, amazing and to go digging through cupboards and drawers looking for the pots and pans. Click on below link and see easy details about ladder pot rack project. It helps to enhance the beauty of the kitchen.
14. DIY Primitive Cabinet
Everyone needs wonderful cabinets in kitchen and it Primitive cabinet is too much amazing idea and enhance the beauty. It's looking so unique and wonderful. This great primitive cabinet is easily created in home in limited time. Click on below link and see easy instructions about amazing project.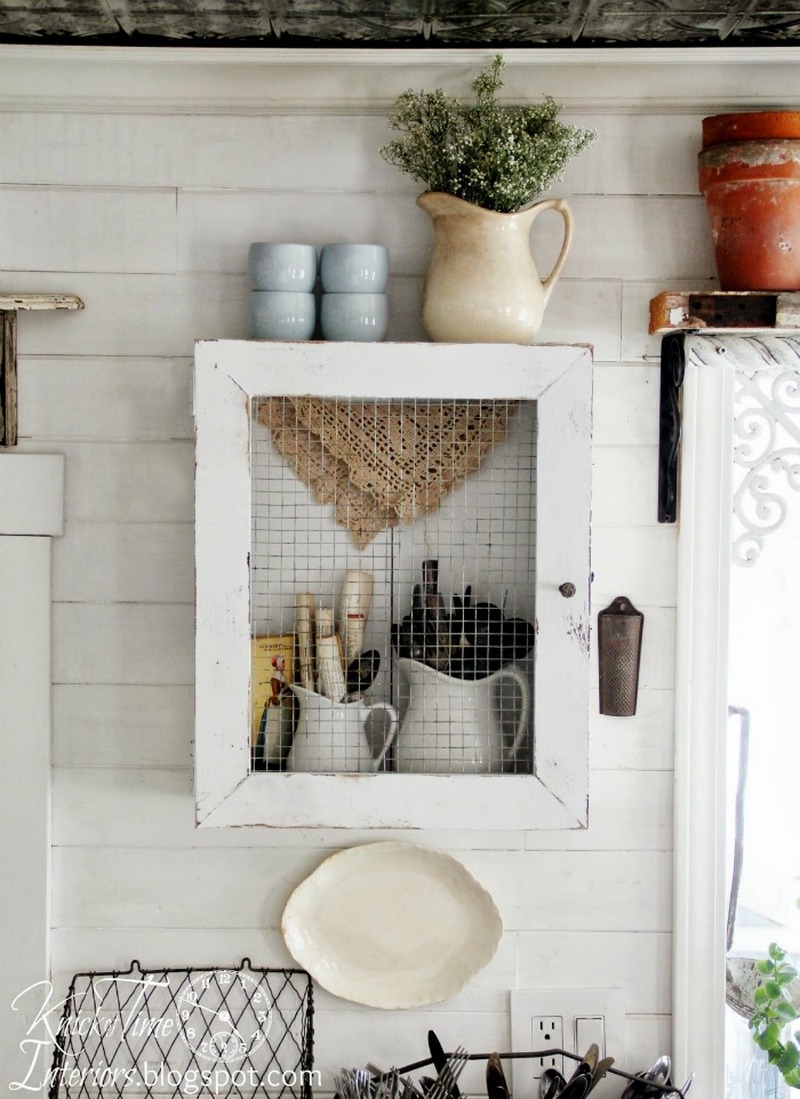 15. Farmhouse Kitchen Canister DIY
This farmhouse kitchen canister is perfect for your kitchen.  You, Organize your kitchen with this beautiful farmhouse kitchen style. It's really looking beautiful. Use old jars and make something new again. Click on below link and see details in simple words about farmhouse kitchen canister project and you will really enjoy it.
16. DIY Three Tiered Tray
Trays are always trump flowers. It is super easy and really help full for to give you a good idea that how you can make it for you according to your space. This is very easy and these trays can be so customize and can be made with cake pans, wood log slices, plates, & so much more. See details about tiered tray project.
17. DIY Kitchen Storage Shelf
This is cheap DIY project and is so easy and simple to make that will help you to keep your kitchen always clean and beautiful with the maximum order. Many people are needs a clean and shiny kitchen in the same time so it's really helpful for you. See detail about project in below link and you really try this project.
18. DIY Tobacco Basket
Projects like this make a particular look more affordable and the real satisfaction comes from being able to use your own two hands to create exactly wonderful creativity. Try this great basket project in home and You will really enjoy this creativity. Click below link and see detail about tobacco basket project.
19. Farmhouse Coffee Station Idea
This is so many ways you can set up a DIY coffee bar at home. You can use your kitchen counter, a cabinet and you get really inspired!​ You can make your favorite coffee at home, where you can get it cheaper. It project is best for enhancing the beauty of your kitchen. Click on below link and see instruction about project details.
20. DIY Ladder Light
This is so much creative and amazing idea. It's a good idea to carve out grooves for the wires to sit it. You use a tape measurement to calculate the distance on your ladder to help make the least amount of mistakes, It's really helpful.  Looks out standing and also wonderful. Click on below link and see details about ladder light project.
21. Shiplap Styled BAKERY Kitchen Sign
This kitchen design looks great. This bakery kitchen sign is perfect for your baker. You create your own small bakery in home kitchen and enjoy great-full baking. You use this beautiful sign as a logo of your bakery and bake something delicious like cookies, mini tarts, cake, cupcakes, etc. See detail in below link about project.
22. DIY Light Fixtures For The Kitchen
This DIY Light Fixtures is my favorite addition to the kitchen. Basically we made this project alone decide to tackle the entire kitchen and give it a huge makeover. It's easy to make with the help of given instructions in detail. It's amazing project with the barn to turn into light fixtures. See details in below link.
23. DIY Shaw's Farmhouse Sink Installation
This DIY Shaw's farmhouse sink installation is good for the new look of the kitchen and also looking wonderful. You add a bead of white silicone all around the base of the sink where the sink meets the cabinet. It's amazing creativity for the kitchen. See easy instructions about project of great Shaw's farmhouse sink.
24. DIY Floating Shelf
This DIY floating shelf project is an easy woodworking creativity. Basically this floating shelf will help you add personality and interest to a room by allowing you to show off your favorite books, curios, plants, and more. Click on below link and see amazing instructions about DIY floating shelf project.
25. DIY Kitchen Island with Trash Storage
This is a great and also wonderful DIY project for an amazing Kitchen island with in trash storage. It's also looking beautiful and safe the space. Basically this project of Trash Storage is a great replacement for a trash. You really try this trash storage project in home. See project details in below link and enjoy great creativity.
26. DIY Painted Wood Bowls
This is one of the great project. It's perfect for serving yummy food and looks amazing. You use beautiful wood bowls for food serving. These wood bowls are one of my favorites and more other people because it's looking sweet and great. Click on below link and see details about amazing project of DIY painted wood bowls.
27. DIY Brush Lettered Storage Jar
This is an easy and affordable storage jars that can be totally personalized as you like. You have included the free tea, coffee and sugar titles on jars. You can also give any name in any foam which you want. Basically this is such a fun way for you to learn the basics and develop your own unique style. See amazing project details in below link.
28. DIY Pizza Stand
This style of pizza stands is very unique and wonderful. It's very easy creating to make within few time. This is something special about pizza stands and they can make the most humble of foods look special and celebratory. Click on below link and see easy and simple instructions about pizza stand project.
29. DIY Taco Stand
This stand is looking beautiful and great for your food presentation. Basically this is perfect stand for tacos. You can make the most humblest foods look special and celebratory for special events. It is a super functional project. Click on below link and get easy instructions about DIY taco stand project.
30. The Perfect Kitchen Cart With More Storage
Modern kitchens have so many appliances and it can be hard to find somewhere it to store. You can easily make kitchen cart with more storage in home with your choice. So many variety of styles are available. Click on below link and get amazing and easy instructions about kitchen cart project.
31. DIY Copper Pipe Paper Towel Holder
This DIY is simple for anyone to put together. It's very amazing idea. This option is simple, modern and sophisticated and because it hangs from the cabinet, it reduces clutter from the counter tops, leaving your kitchen looking clean and simple. See details about project in below link.
32. DIY Lazy Susan Serving Tray
I really love to DIY things for home and also love to re-purpose things that are no longer loved and appreciated. You make amazing Susan serving tray in home with the use re-purpose products. The great thing about this craft choose the words "Tea, Coffee, Wine" for amazing looking. Click on below link and See details about project.
33. DIY Custom Cut Acrylic Serving Board
The shape is full of fun and it's a great pop of color. Basically this smooth top is food friendly and easy to clean. It's amazing and interesting craft. This is in a range of many different happy colors and shapes make for a gorgeous celebration.  It's perfectly ready to load up with treats. Click on below link and see instructions about craft.
34. DIY Scalloped Idea Cork Placemats
It's cute, playful and can be put on just about any surface. It's also looking so awesome and incredible. You make creating beautiful thing or craft in home and share others.  You need some cork place-mats, White craft paint and more others. See more details about the idea in below link.
35. DIY Modern Cake Stand
Now you make your own gorgeous dessert table with amazing cake stands like this modern cake stand. This cake stand is looking smart and so much awesome. You easily and quickly made in home with in little time.  This is best technique for enhancing the beauty of a material and making something gorgeous in the process. See instructions in below link.
36. Installing a Tile Back Splash
This craft of tile back splash is looking gorgeous and wonderful. It's simple and you can simply cut the mesh backing on the sheets to fit the tile along counters and cabinets. It's easily made and enhances the beauty of the kitchen. Click on given below link and see easy instructions about tile back splash craft.
37. DIY Modern Wood Cabinet Pulls
You are ready for the modern look of cabinet pulls craft to complete the look of your room. These styles of pulls are available in three lengths and three finishes, and are a stunning way to complete your room. It looks amazing and awesome. Click on the below link and see easy instructions about the project.
38. DIY Marble & Wood Serving Platter
This is seriously one of the best DIY crafts. Its looks amazing and definitely prettier than the cutting board we usually use for setting out snacks. It's time to go out for some marble tile. This is gorgeous and easy to make. Click on the below link and get easy instructions about marble and wood serving platter project.
39. DIY Rolling Kitchen Island Or Bar
This is awesome kitchen and found lots of inspiration for kitchen island with so many different ideas and options. You easily operate rolling kitchen Island or bar.  You make it so easy to drill many pocket holes. Click on below link and see instructions related wonderful project.
40. DIY Footed Serving Bowls
This DIY footed serving bowls are quick and super budget friendly. Basically you'll only need five materials to makes these beauties. You probably have most of them laying around the house.  This is technically a great DIY project. Click in below link and see easy steps about project of footed serving bowls.
41. DIY Appliance Garage Project
This is the great design debate of  function. You should desire to have your cake and eat it too.  This DIY-friendly appliance garage is a must.  It's a best viable cost-saving option. You really try this project and make your home wonderful. Click on below given link and get the step by step instructions related appliance garage project.
42. DIY Wood Cake Stand
This project is creating a pretty cake or cupcake stand that is perfect for parties and social gatherings. Basically this wood slice stand is easy to make and you can easily customize it with any color you like. If you love jars and country chic styling then you'll really love this project. See details in below link.
43. DIY Patterned Napkin Rings and Printable Placemats
This great patterned napkin rings and free printable placemats are creating in partnership with Cheeky. All ideas and styles are wonderful and full of enjoyment. This idea of napkin is automatically enhance the beauty of dying table. Click on below link and see step by step instructions about wonderful craft of napkin rings and printable placemats.
44. DIY Confetti Pattern Placemats
Sometimes simpler is just better, and these DIY confetti pattern placemats are about easy as it gets. It's to make things even easier and simple but looking unique and smart. This craft easily enhance the beauty of your food presentation. Click on below link and get easy details about DIY confetti pattern placemates project.
45. DIY Polka Dot Fridge
This is so cute and you are definitely going to make it. This is an awesome polka dot fridge. This is an easy enough DIY and a great way to create a fun focal point. It's looking also amazing. You can easily use a potato stamp for something great and easily make different sticks for decoration. See detail in below given link.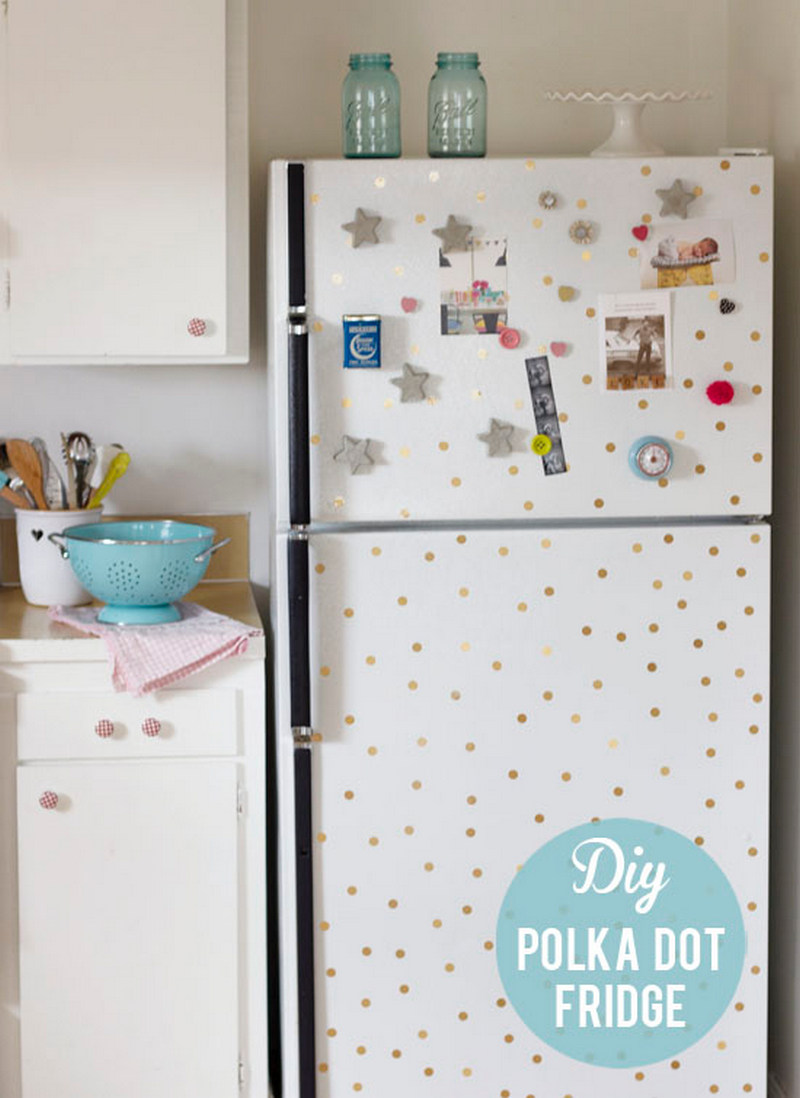 46. Decorative DIY Marble Plates
These decorative DIY marble plates while we are trying to find cool chargers for a celebration. This is inexpensive to create and it's a really easy to cleanup. This project is easy and quick to make. This idea is always full of fun. Click on below link and see step by steps instructions about DIY marble plate's project.
47. DIY Farmhouse Wooden Trivets
This idea is best for all; here is a simple and quick project that can be done in under an hour. We need are a few wood pieces, some stain, and a little paint etc. This is an easy project that is great for creativity. This trivet is looking very cute and beautiful. Click on below link and see details relate to craft.
48. DIY Honeycomb Wood Burned Cutting Board
This is a great craft. I hope you really excited about the honeycomb pattern and how the project turned out. This craft makes it easy to hang if you want and we have a stack of cutting boards leaning about counter. Click on below link and see step by step easy instruction about honeycomb wood burned cutting board craft.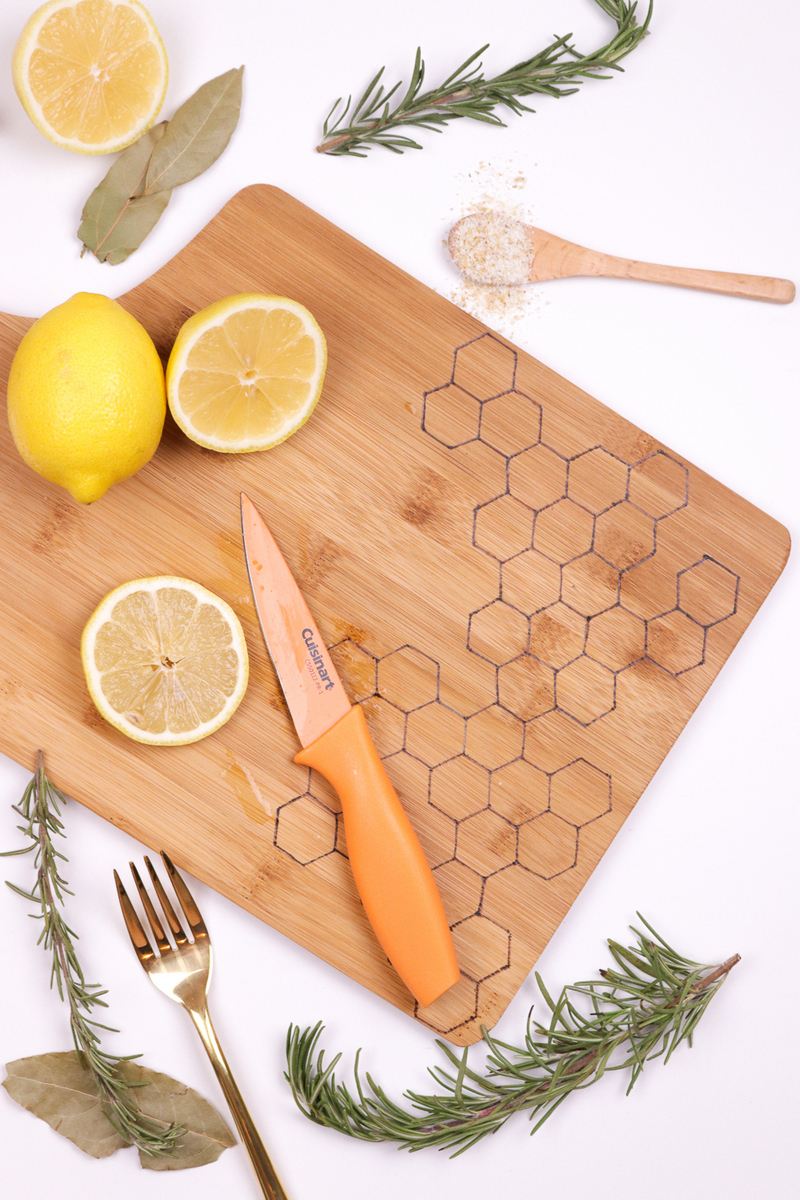 49. DIY Gold Rimmed Cocktail Glasses
This craft is looking gorgeous and great. This is very simple and the beautiful gold rim with great DIY project. You can only handle thick, sturdy, cheap drinking glasses. The trouble is so pretty. Click on below link and get the instructions related to the DIY gold rimmed cocktail glasses project or craft.
50. DIY Pour-over Coffee Stand
It is such a cool project. It's a great time saving.  This project is full of fun, simple DIY projects and this is perfect adjustable pour-over coffee stand. You really try this a new coffee maker idea to go with her new coffee bar. Click below link and get easy and simple instructions about the wonderful DIY pour-over coffee stand.