50 Very Easy And Simple DIY Paper Craft Ideas
Crafting is a dear hobby of yours, and then you are certainly in search of new great and amazing easy paper craft projects you can do yourself. I think one of the easiest craft supplies is Paper, and we all know that it's good to recycle. You can make ton of fun craft with paper. Paper craft is famous among people and kids. Paper is easily available and cheap to use you can recycle any paper according to your wish. Paper crafting is perfect for those people who love to create things and Eco friendly. See easiest and amazing idea in below list of DIY crafting paper project.
1. Paper Plate Tropical Fish
These paper plate tropical fish have bright and vibrant colors and are so much beautiful in looking. You really try with in spring and summer around the corner and it seem a fitting time to share this fun paper plate craft your kids will love. You make these cute and dory plates with paper. See details in below link.
2. Kids Crafting – Octopus Puppet
This is a great fun to make this project and perfect with amazing fun. This is several perfect for toddlers. This craft is simple, quick and easy to make in home. This type of activity can make your summer interesting and spend great time with kids. See details about project in below link.
3. DIY Swirly Paper Flowers
Many people love spring season because spring come with so many colorful flowers. The season of spring goes so does the flower. I hope you really love to decorate your house with flowers. You easily make these paper flowers in home. See amazing details related to project in below link.
4. Origami Schmetterlinge
This Origami Schmetterlinge is easy to make and when you learn the step of making these butterfly you will make groups of them. This origami butterfly is a simple with beautiful look. For making these butterfly you need original origami paper. Click on below link and see instructions in below link.
5. DIY Geometric Bowls
Are you origami paper lover? If yes, then these DIY geometric bowls are perfect start for you. You can make your own cute organizer for your things. This is an easy way to collect your small clips and pins in these geometric bowls. You can make these bowls in different color. See details in below link.
6. Pocket Folding Fan
Pocket Folding fan are cool to make and amazing summer craft for kids. Preschoolers love these types of activities for their camp. It's very easy to make and too much interesting. Pocket folding fan is also looking very beautiful. Click on the below DIY Tutorial link and see amazing and simple detail about project.
7. Crepe Paper Wisteria
How to Make Crepe Paper Wisteria? Really try to make this great project. This is one of those glorious DIY amazing crepe paper wisteria projects. It looks so much amazing and easy to make. This is a Perfect for wonderful decoration. See details about amazing and wonderful project in below link.
8. DIY Paper Flowers
These DIY paper flowers are perfect decorations for parties, weddings, bouquets and even individual flowers that will look great anywhere in your home. These paper flowers use a variety of materials include scrapbook paper, tissue paper, crepe paper and more. Click on below link DIY Tutorial and see awesome details about project.
9. DIY Summer Fruity Paper Medallions
Can you create your own paper fruit medallions? You can do it. We are craft up these DIY summer fruity paper medallions in the form of watermelon wedges and citrus slices. These shapes are amazing and you probably didn't even know are possible with paper. See instructions in below link.
10. DIY Paper Gift Bows
Why we buy bows for gift wrapping when you can make them. You use double side origami paper and if you use to recycle old wrapping paper or magazines, that works too. You will need paper, scissors or a paper cutter and more other things. See details in below link.
11. Paper Succulent Centerpiece
Do you buy your papers from Paper-Papers? Good paper, the right kind, makes such a difference to how things turn out. You really love making paper creations. Hope your baby feels better soon, so hard when they run a fever, not much can do for them. Enjoy this craft. See details in below link.
12. DIY Paper Spring Floral Crowna
The time of Spring season calls for a celebration and with a floral crown is the perfect way to do so. We love creating paper flower crowns because this is wonderful looking. This one we dress up with some colors paint to add in another fun dimension. See the instructions in below link.
13. Tutti Frutti Cocktail Schirme
You Pick any fruit of your choice and do some crafting with it to make something innovative and creative. Look amazing and also interesting. You easily make this amazing craft with children. You also have to make some amazing and delicious summer fruit treats to make them eat fruits. See details in below link.
14. DIY Paper Geode Garland
The idea of DIY paper geode garland is fun to make with a selection of pretty colorful papers from Paper Source and a good craft knife. You can make this craft for home too. If you have few things use this project include craft glue to hand then that will work too. See details in below link.
15. Magnolia Style Book Wreath
Can you create new thing with old books? Now you ready for new great craft. It's very amazing looking and also wonderful project. You add some twine around a stack for decorating and cover with fun paper or completely transform into something unexpected. Click and See tutorial in below link.
16. Paper Diamond Party Hat Pattern
This party hat pattern is full fun to make and coming in different five fresh pastel colors. These diamond wonderful top hats are super cute and perfect for dressing up any party outfit. Making hats can also be a complete fun party activity for your guests. See easy instructions in below link.
17. DIY Botanical Paper Leaves
Are you ready for something interesting and new? Now look amazing leave paper craft. You really try this craft in home with your children and enjoy it. Can this DIY paper leave not the perfect solution? Now see amazing solution in perfect tutorial. Click on below link and try this great craft.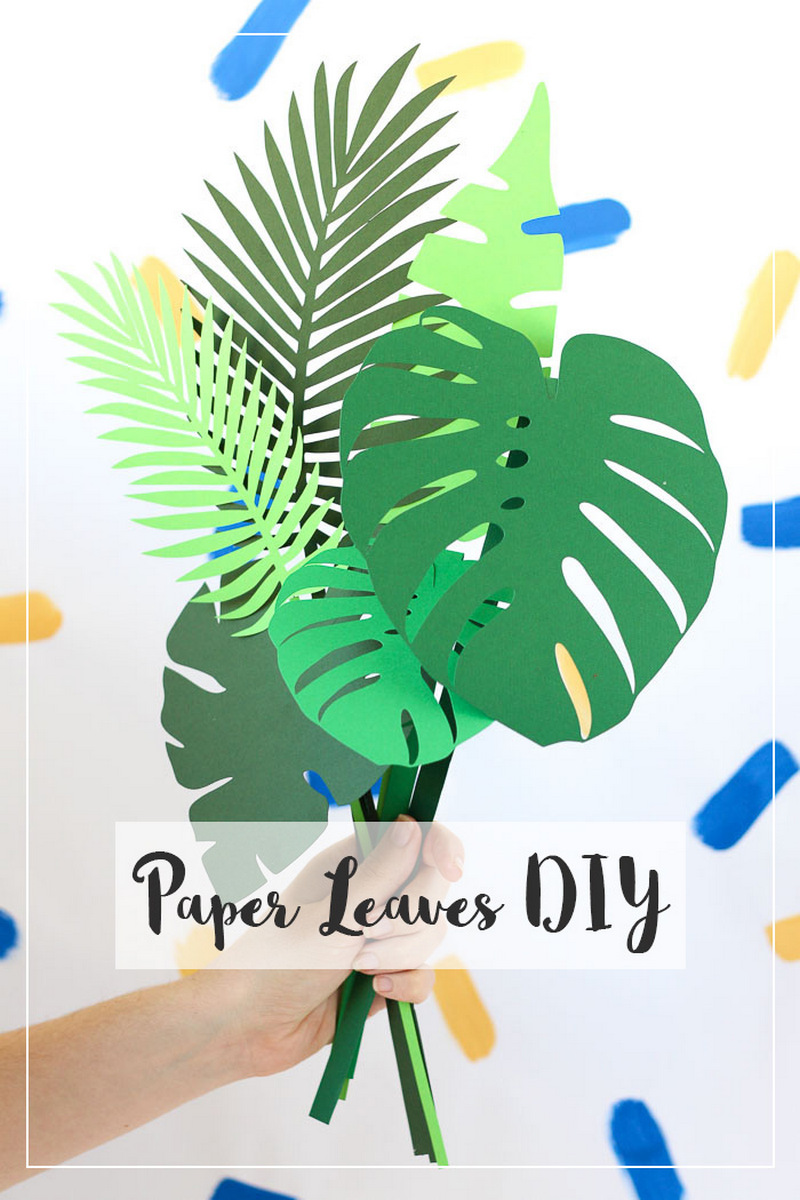 18. Ombre Paper Mobile With Cricut Explore
This is SO adorable! Would love to make this myself, but did you use a sewing machine to sew all the circles and even between the circles? Or was it is embroidery machine? Regular sewing machine thread seems so delicate and small that it wouldn't sew itself together between the circles.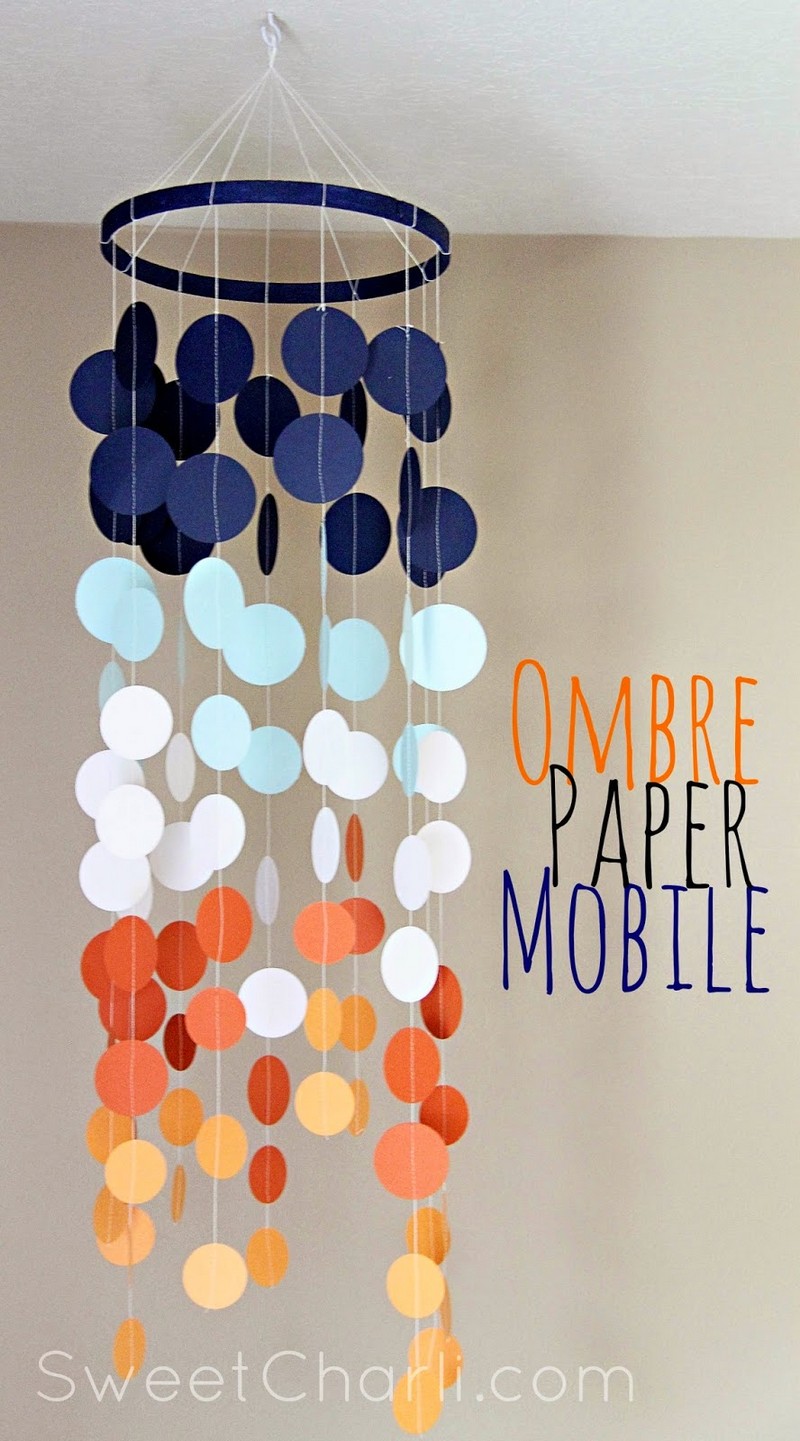 19. DIY Paper Poppy Backdrop
Have you ever heard of a Decoration Day with DIY Paper Daisy Backdrop? Well, in honor of Memorial Day we create DIY Paper Poppy Backdrop along with a paper poppy pin for the day. You make this craft and decorate your home. See great and amazing detail in below link.
20. DIY Flower Monogram
This flower monogram welcomes spring and if Mother Nature is still trying to decide if it's spring yet outside. These flower letters are so fast to make. It's easy and also it's a great DIY for everyone. Click on the below DIY Tutorial link and see easy and amazing instructions.
21. 3D Potted Paper Cactus
If you are looking for a simple and adorable paper craft project. You are come to the right place. These 3D potted paper cactus are much easy to assemble than they look and which is always a quality. You are like in our DIY projects. See details about project in below link
22. Quilling Paper Dragonfly
It is a perfect and nice home craft. You easily and quickly make this craft in home with wonderful looking. One of my favorite things about that house is that every summer and would appear from now here and buzz all around the house. See best details in below link.
23. DIY Paper Lanterns Decor
This week we are putting the craft of paper lanterns decor. It's a starting to get a little bit worry that spring is coming.  All the things with you can make and transform with paper. It's very interesting and awesome looking. Click on the below link and see tutorial about paper craft.
24. Pocket Treats & Tea Bag Holder
This is a great idea. Everyone's looking for a sweet treat. It's easy to make with amazing given instructions in below link. Do you need more pockets?  Don't worry  just keep folding and keep adding sections. This project makes a terrific pocket. See great tutorial about project in below link.
25. Colorful Wall Art
Who says art is to mean anything or require any creativity whatsoever? Here are some cheap and simple ideas to decorate boring wall. It's a perfect craft for enhancing the beauty of the home. Looking incredible and wonderful. See great and simple instructions about awesome project in below link.
26. DIY Japanese Fans
Japanese fan are the adorable thing that we see. You can make these cute Japanese fan with your children. Kids like to feel the movement of air when they play with these pretty little fans. These Japanese fans are tradition among Japanese people. You can also hang these fans on your wall for decoration. For making these fan see the link below.
27. Pomander Flower Ball
These gorgeous flowers can your decoration magnificent. You can use this pomander flower in your wedding and in your birthday. These flowers are very inexpensive and worth of attention. It is very easy to make, you just need scrapbook paper and some pins. See more details in below link.
28. Origami Pull Out Drawers Instructions
With these pull out drawers you can store your miscellaneous like tea bags, memory card.  For these drawer you needed original origami paper, these are easy to make, you can make your own storage box with these drawer. For make this click on below instructions.
29. Paper Pumpkin Centerpiece
These small paper pumpkins can be great for Halloween and of course thanksgiving. You can decorate your house with this pumpkin centerpiece. it is simple, easy and very cheap.  you just need paper, clips, scissor and glow. It can easily fit the bill fully. See the link below for making those cute pumpkins.
30. Picture Frames From Paper Without Gluing
We love it when craft is interesting and easy. You can give those frames to anyone as a gift. Showing pictures has become an art long ago. People love to hang their photos in those cute frames in their houses.  For making those paper picture frame you needed to click on the below link.
31. DIY Origami Vase
You can say that these origami paper vase are now easy to make and technically very simple. You just have to follow step to make those vase. You can decorate your side table with this vase after putting flower in it. For make of these vase click on link below.
32. DIY Paper Wall Art
Are you looking to add life and energy for our house? If yes than, you stumble on right site. Adding wall art in your house is a stunning way to decorate. The paper art you make can a huge impact on your personality. It is a unique way to describe yourself. For making these type of paper art wall see the link below.
33. DIY Utensil Holders!
You can use these DIY holders in your kid's party or sleepover. These are easy to make and you can make them in many color. If you have different color paper. These holders can be fun for kids. For making these type of utensil holder you have to click on the link below.
34. 3-D Letter Art And Storage Jars
Now a days 3-D letter art are very famous. You can decorate your wall with these 3-D letters. These letter art give your room amazing look. In this site you can also make storage jars. You can store many things in these jars like arts supplies, marker, and pen. See the instruction by clicking below options.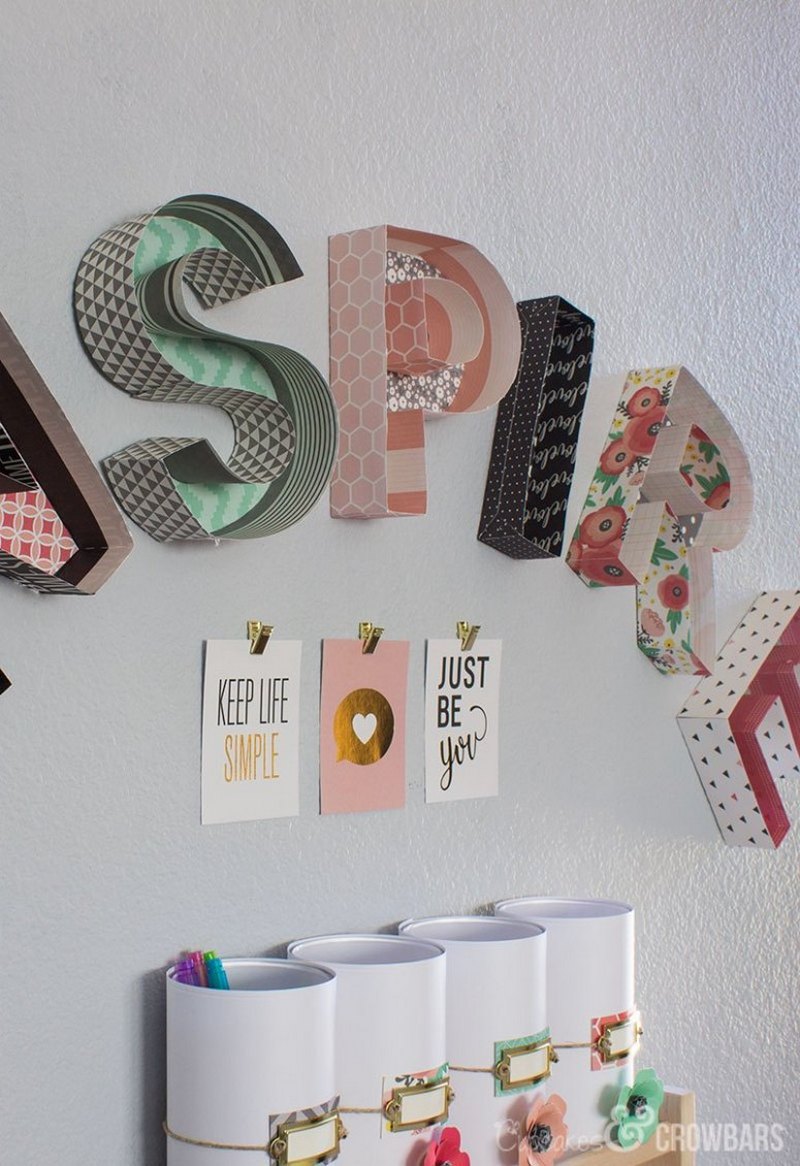 35. Gorgeous Gift Wrap Idea
These origami paper bow are simple marvelous. You can your gift wrap more magnificent by putting this bow on the gift. You can also decorate different thing with these bow. You just need multi-color paper, scissor and glue. For the further instruction click on link below.
36. DIY Kraft Paper Wall Art
Oh, This Kraft paper hanging wall art is so adorable. You can make these with your children and hang it on your door or in your room wall. You can write cute and wise quote in this paper. This DIY is so simple and easy that you can make it. You just need paper, glue, rope and marker. For more instruction see the link below.
37. Mad Hatter Tea Party
These chandeliers are so pretty. They will look stunning in your house. These cute little chandelier can attract anyone attention in your house. You can make those mad hatter tea party in any color you want you need paper, needle, thread, small crystal beads and hot glue gun. See the link below for more detail.
38. DIY Woodland Animals Origami Bookmarks
These Animal origami bookmarks are so pretty. I love to reads book but sometime in hurry i fold my paper in some different way that i have destroy so many pages of my favorite book, than after searching i stumble on this site where they are making these cute origami bookmark that i can't resist but make them for myself. For making this, click the link below.
39. Folded Paper Bracelets
These folded bracelets are cute right? You can make these pretty bracelets with your kids. It is a great activity for your kids in summer. They can make this bracelet with recycled paper that is lying around in their desk. This multi-color pretty bracelet will look good in children. For making those bracelets click the link below.
40. DIY Folded Fir Tree
This is So Cute, right? You can also make this cute small folded fir tree for decoration. You can make this tree for Christmas decoration or for simply hanging them on the wall.  They will look interesting. Your kids can also help you to make them. It will be great activity for them to make this swirly fir tree. For making those folded fir tree click the link below.
41. DIY Paint Chip Animal Friends
If you don't have those expensive plastic animal for your children than you can make them these paper paint chip cute animal friend for playing. These paper animals are easy to make and to make thing more interesting you can also ask your kid to make these animal with you. For further detail see the link below.
42. DIY Cardboard Paper Tube Flowers
I love paper flower but these tissue roll flower are unique in their own way. For making these flower you just need cardboard and scissor, If you don't have cardboard you can use empty tissue roll which is lying around in your house which is of no use you can make use of them by making these flower. For further instruction see the link below.
43. Teenage Mutant Ninja Turtle Ornaments
Do you really like little ninja mutant? This holiday spend your free time with your kids in such amazing making of cute Teenage mutant ninja turtle by reusing old toilet spare rolls ornaments. You just need to use one toilet roll and some colorful green markers and scissors to make such amazing teenage mutant ninja turtle by using old toilet rolls.
44. Stuffed Gingerbread Boy & Girl Craft for Kids
Do you like cute stuffed gingerbread boy and girls? Now you can easily make this adorable stuffed ginger bread paper toys by reusing paper card board and you also need some stuff of cotton and stapler to make these alluring stuffed paper ginger bread boy and girl. You must watch the free link DIY Tutorial below, how to make such interesting paper craft at home.
45. Paper Heart Penguin Craft For Kids
Your little kids will definitely love this amazing paper heart penguin craft, you can make this adorable penguin for your little student for their first day of preschool, and they can also help you in making them. You can decorate your class room with this heart penguin. You just need cardboard and some button. For further instruction click the link below.
46. Recycled Paper Party Lantern
Do like these recycled paper party lantern? If yes then you can also make this pretty party lantern at your home. You can decorate your with these lantern for night light. Your teenager can also make this lantern. For making this lantern you needed empty milk carton and some tape. For more detail click the link below.
47. Paper Heart Raccoon Craft For Kids
Little scholars your school creative project is coming, as you can easily make this wonderful creative paper heart raccoon craft at your school creative projects. You just need one brown and black paper cardboard, and need to cut the both paper cardboard in raccoon heart shape. You can get details from the free link DIY tutorial below, how to make this heart raccoon paper craft.
48. DIY Snowman Shreds
Wonderful snowman shreds paper craft is one of the most interesting and best free time spending activity. You just need used papers and cut then in small shreds and give these cut shreds a cute snowman look, you can easily patch this snowman shreds on any cardboard to give it as a greeting card for Christmas to your friends. You must watch the free link DIY tutorial below, how to make this adorable snowman shreds at home.
49. Paper Plate Snake Craft Using Bubble Wrap
You can make these cute plate snake craft by using party paper plates. You will really enjoy making these craft with your children. This type of can pass your children time skip easily in vacation. You can make this type of snake for animal theme party of your kids. See more detail in the link below.
50. Origami Planter Covers
Do you like origami craft? Because we have one more origami craft for you. You can make origami planter covers by using origami paper. But for making them you need original origami paper.  You can make cover for your plants. You can decorate your plant pots with these origami planter covers design. For making this planter cover you need to click the link below.