30 Gorgeous Crochet Pattern to Keep Your Feelings Hot
The Beautiful crochet fascinating cardigans, shrugs, jackets, in light lacy or block pattern is light weight and has been made in two or three shades. All these crochet items are comfortably long and delicate. Crochet cardigans, shrugs, jackets are quite warm and keep your shoulders warm and cozy. These items are in light or fascinating blue light pink or green colors, in variety of unique styles make your wardrobe complete and colorful. Crochet Cardigan, shrugs, jackets, are great when you need something small or in long styles and cozy to wrap around your neck and shoulders. These crochet item patterns are made double crochet stitches and have a gorgeous look. Some are completed with teasels or round designs make your personality stunning and unique. The crochet items are not only add to your personality but also fit for those girls or women who are going to universities or offices.
1. Gorgeous Braque Jacket Free Pattern
Make your winter season stylish with glorious Braque Jackets. They make your winter season wardrobe stylish and unique. Gorgeous Braque jackets are unique and fun to make and warm outlook if you are in love with crochet jackets then it is the right unique choice, its also perfect winter gift idea. This crochet Braque jacket pattern with double crochet, crochet block stitch, Made in wool and in pink, skin and purple colors .This jacket is warm and perfect for teen Girls and also for working ladies.
2. Open Front Crochet Cardigan Pattern
Give yourself new look in this warm cute light looking Front open crochet cardigan. This open front cardigan knitting and crocheting is wonderful, by wearing this stylish crochet cardigan you can make yourself or someone special. If you have few times, you can easily wear it. This cardigan looking gorgeous top to down, you are sure to find the right crochet cardigan for winter season and every occasion. You will also look smart in this Grey block knitted crochet front open cardigan.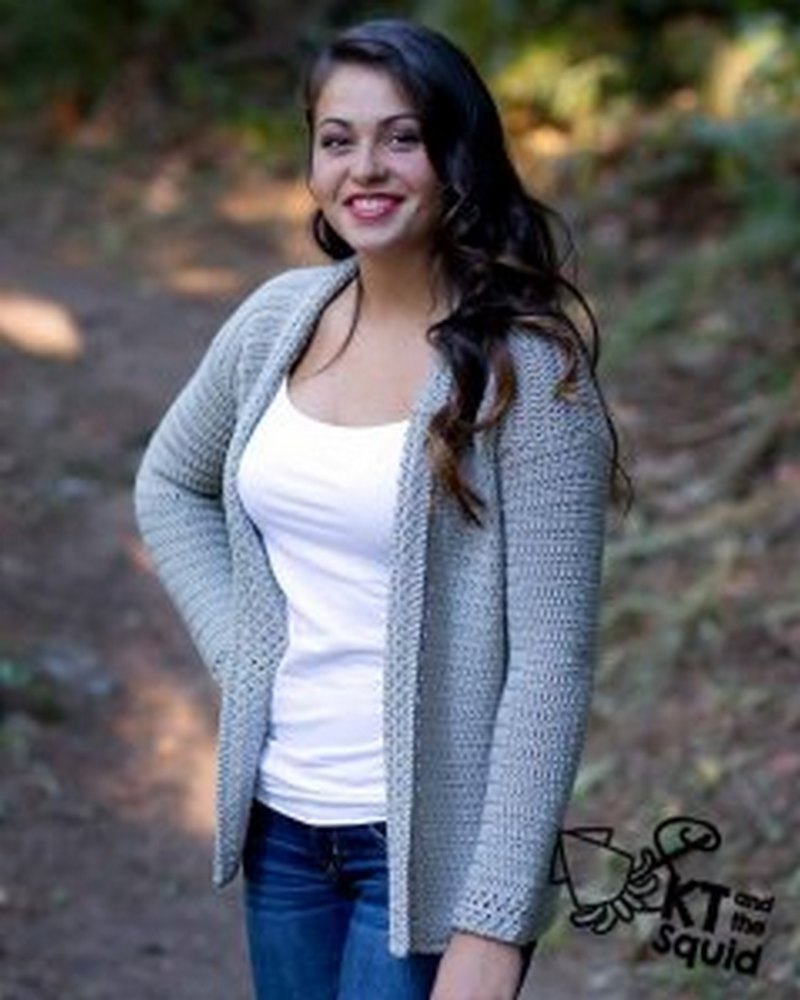 3. Cascading Kimono Cardigan Free Pattern
Pretty crochet kimono cardigan is stylish and fit for all teen girls, its folded collar neck enhance its appearance but also enhance the personality who wear it. A beautiful comfortable kimono cardigan is perfect to throw on only cool days. This created with simple block crochet stitches from lace to openwork to solid in different unique style; knitting is very well so you can pair it with jeans or lagging for a fun relaxed look. Not to fancy but just nice enough to dress up a simple outfit.
4. Chunky Belted Crochet Cardigan Free Pattern
This crochet pattern easily slip on, it keep you warm and cozy without requiring a jacket. Crochet Belted cardigan make great gifts for woman of all ages, The crochet belt over the waist looks modern, you could use these crochet cardigan patterns to create your own wardrobe additions. If you going out for walk or travel somewhere you can wear it easily or comfortably, you can easily open or remove its belt to make an open front cardigan.
5. Crochet Cardigan Sweater Coat Free Pattern
The elegant looking crochet cardigan sweater coat in net pattern will give you unique appearance. Every Girl will look more stylish after wearing this elegant crochet cardigan specially with V- back or bluish color enhance the beauty of this crochet cardigan .This cardigan is easy or light weight and comfortable to wear as it can be wear as cardigan or it can also be tie up from front. For fashionable or to look fabulous it should be keep as a wardrobe essential .So it's time to get stylish with this Beautiful elegant looking crochet cardigan.
6. Crochet Circle Shrug Free Pattern
The beautiful multi-color crochet shrugs in double circled pattern for anyone who loves colors. This multi-colored shrug can be worn with variety of outfits and its stuff is extremely soft to touch. The interesting colors in this shrug make you joy to work up. This versatile circle pattern crochet shrug can be worn in many different ways, you can dress it up skirt or with your favorite pair of jeans. you will love to wear this easy multi-color circled pattern crochet shrug with eye catching colors.
7. Crochet Circular Vest Sweater Jacket Free pattern
Look outstanding or beautiful this winter by wearing this purple with sky combination vest sweater. This crochet Vest sweater is inspired from Bohemian fashion. These lace design of vests and cardigans in lotus, mandala and other floral motifs create beautiful unique designs for woman's everyday .This crochet circular Vest sweater also protect you in winter but also make your personality awesome and fabulous looking and it is light weight and comfortable to wear and this Crochet Vest sweater is fit for every occasion.
8. Crochet Cuddlier Cocoon Sweater Free Pattern
The Crochet cuddlier cocoon sweater is very Fuzzy or woolly is made up with double thick crochet pattern. This sweater is the warmest thing you will ever see, you will really feel like that you are wrapped inside a cocoon, and you will love this beautiful piece too. This triple light color crochet cuddlier cocoon sweater in light grey, brown or skin color can be worn with different dresses and you can pair it with your favorite jeans.
9. Crochet Dream Catcher Circle Top Free Pattern
Multi-colored Dream catcher top with circle motif behind will add to your personality and you will also look elegant. This crochet pattern is worked in the round with an intricate stitch design. Its long collars or long length will give you unique look, crochet patterns are always the choice for anyone who are addicted to crochet fashions, this dream catcher circle top with variety of colors will easy or comfortable to wear and it is fit for all teen Girls or woman who want to look fabulous or smart in front of others.
10. Crochet Lovely Lace Jacket Free Pattern
The crochet Sweater with mandala motifs will gives a classical look and the soft gradient color White or grey with lovely back tale look make your look or personality unique and fashionable. Lovely front flare look crochet sweater is light weight and extremely suitable for all body types and this beautiful crochet mandala motif sweater could be a great, wonderful gift for your relatives or friends. This is best fancy sweater with mandala motif for all Girls or women who love crochet.
11. Crochet Mandala Motif Sweater Pattern
The crochet Sweater with mandala motifs will gives a classical look and the soft gradient color White or grey with lovely back tale look make your look or personality unique and fashionable. Lovely front flare look crochet sweater is light weight and extremely suitable for all body types and this beautiful crochet mandala motif sweater could be a great, wonderful gift for your relatives or friends. This is best fancy sweater with mandala motif for all Girls or women who love crochet.
12. Crochet Skull Circle Vest Pattern
Crochet skull circle vest pattern is a collaboration of Retro style circle vest and Bone Dance. This Crochet vest is a scary or creepy version of skull circle vest jacket, this design of black and white combination is loved by ladies who love scary skull look vest jackets. You can wear it easily as a jacket or sweater. This pattern is designed with inspiration of spider web to look unique or fashionable, this crochet skull circle vest is perfect for spring season and summer fashion and that provide so much space for air-circulation.
13. Crochet Snuggly Cardigan Free Pattern
You love to snuggle up in a cozy or soft crochet cardigan, its long sleeves version is flattering and comfortable to wear and the collar and the back design adds a touch of style and elegance. This cardigan make with thick double crochet pattern and knitted very well and its skin color is so elegant or love by all ladies. This light color crochet snugly woolly cardigan is light weight and easy to wear and can be paired with jeans or lagging's.
14. Dragon-Bird's Hood Jacket Pattern
Get stylish with just adorable looking crochet Dragon-bird's Hood jacket. Crochet dragon -bird's hood jacket make you look stunning or Gorgeous and you just love to wear this Dragon bird's Crochet jacket with light blue flowers knitted with black base double crochet pattern, Long sleeves and matching hood  with lace border is  amazingly knitted to give  you Dragon birds look in winter season. Crochet Dragon-bird's Hood jacket is a perfect Gift for ladies or young Girls who loves Dragon's world.
15. Granny Square Cocoon Free Pattern
Gorgeous looking crochet Granny square cocoon cardigan is perfect for you when you need just an extra bit of warmth. You will look stunning in this beautiful purple laced border crochet in square cocoon style, ladies who just love finding those fashionable pieces that became wardrobe staples. This crochet Granny square cocoon cardigan is one such item that should be in your crochet collection.
16. Hooded Rainbow Cardigan Free Pattern
Bright and adorable crochet hooded Rainbow cardigan is perfect for Girls who love multi-colors or Rainbow. This crochet cardigan is made with two large granny- inspired Hexagons. The colorful hood gives a bit of coat-style to this cardigan and makes it great for colder weather. Hooded rainbow cardigan is easy or comfortable to wear and its stuff is really soft and fuzzy and suitable for all body types and you will find yourself making it in all colors.

17. Lace Fabric Sweater Free Pattern
Simple Gorgeous looking crochet Lace fabric sweater can be slip on easily and can be worn over almost anything to give a finished look to your outfits, Beautifully laced white simple sweater in block crochet pattern keep you warm and cozy without requiring a jacket or it can be worn easily under a jacket on the coldest days of the years. Simple white crochet lace sweater will be a great gift for woman of all ages.

18. Lemon Drop Kimono Cardigan Free Pattern
Pretty and easy to wear Lemon Drop kimono cardigan, vest or poncho with pretty beautiful blue color and a little touch of yellow is perfect for your everyday use to keep you in style. Lemon Drop crochet cardigan beautifully knitted with single or double crochet patterns and little pom pom edge is added to spice up this pretty kimono cardigan. You can wear this lemon drop kimono cardigan with shorts or bikini to look stunning.
19. Lightweight Open Crochet Shrug Pattern
Want to look stylish or great without lots of effort then Light weight open crochet shrug is best or perfect for you to look fashionable. Open crochet shrug is one summer cardigan crochet pattern. This one is designed as a one size-fit with a size J-hook or knitted very well in net block crochet pattern and in a very open, lacy design. This Stylish lightweight cool blue color crochet open shrug is simple and best or suitable for all ladies.
20. Lovely River Bend Cardigan Free Pattern
You will love the River bend crochet cardigan as it is simple and fabulous to wear. Lovely River bend crochet cardigan is over sized, Super cozy and the perfect topper for jeans and leggings, It's a fantastic neutral piece you will want to throw on every day, River bend crochet cardigan is fantastically knitted in Double block crochet pattern its nice dark grey color will be suit with any outfit specially with your favorite jeans or long shoes.
21. Modern Geisha Jacket Free Pattern
Get dressed for fabulous or unique look with this crochet short stylish Green color jacket features a wrap front and gorgeous Bell roomy sleeves for a geisha- like effect. After wearing this Geisha jacket you will look more Modern and look immediately stylish. Modern flattering crochet geisha style jacket will suit all body type especially it will enhance the real beauty of your outfit.
22. Over sized Women Crochet Cardigan Free Pattern
Over sized crochet cardigan is slouchy with loose wide thick wool sleeves and simple hemline ribbing, it's a perfect crochet cardigan for chilly fall days and you also feel relaxed or fit by wearing this over sized crochet cardigan. You can also pair it over jeans, a flown or flared dress and its look nice and long if you wear it over leggings too, the over sized dark green crochet cardigan also features two handy dandy pockets so you can fit your full-sized smart phone inside the pockets.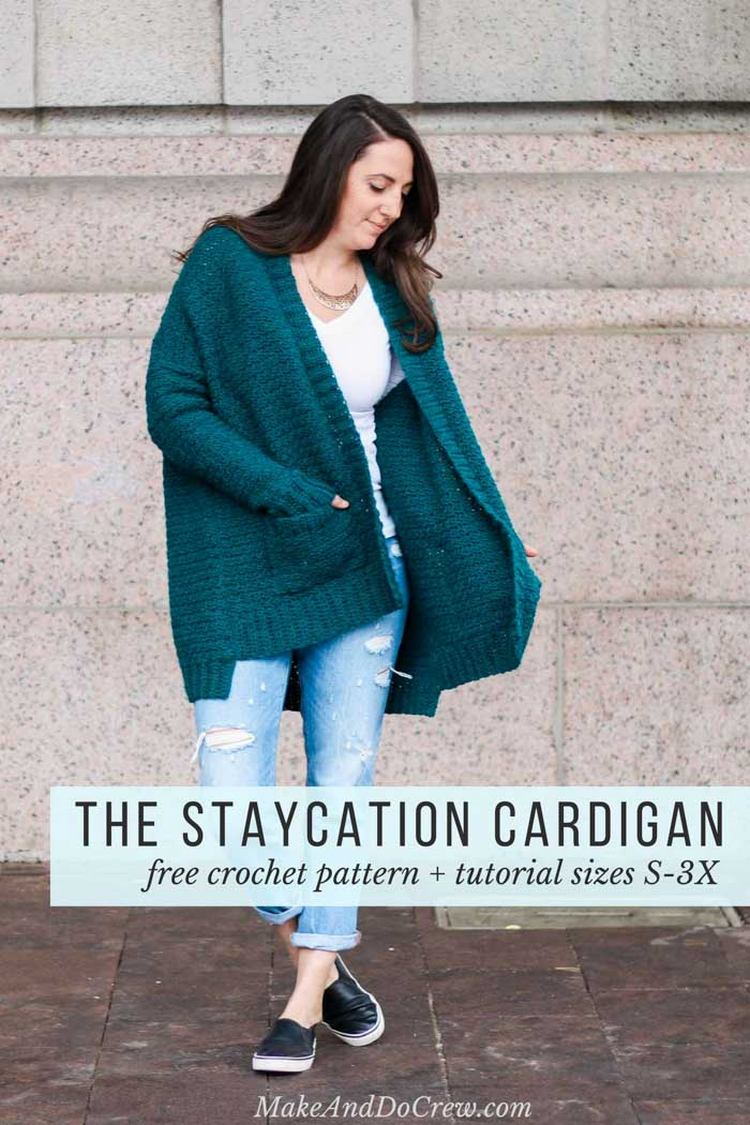 23. Pineapple Crochet Fairy Queen Coat Pattern
Pineapple crochet fairy Queen Style coat is a wonderful or amazingly knitted garment that adds to your personality or makes your look fabulous or stylish. This stunning coat features a vintage pineapple pattern that make you feel like a fairy Queen. Its double knitted crochet net like structure and its long length will make you to look great especially ladies can wear this beautiful looking pineapple crochet Fairy queen coat with short flare frocks.
24. Roses Granny Cardigan Free Pattern
Beautifully or fabulously knitted  jacket- style cardigan combines striped rows with floral granny square motifs .The cardigan is made with shades of three colors light blue, pink or light grey, but you can get super fun and creative with these granny squared designed crochet cardigan. You will look great when you wear this multi-colored 3 shaded floral or roses granny cardigan.
25. Sleeveless Cardigan Button Wrap Free Pattern
Another Beautiful or stylish and light weight sleeveless cardigan with one button wrap in Peak a boo style is perfect for both season, it actually looks like a scarf or vest and it is closed from the front which gives it a great fashionable appearance and the short length is adorable for short dresses and tops, crochet sleeveless button wrap cardigan is perfectly knitted in thick crochet pattern and its lovely purplish pink color will be suit to all young ladies or girls who love crochet garments.
26. Crochet Striped Jacket Pattern
Hot, Gorgeous looking Red stripped crochet jacket will melt your heart or you can impress others by wearing this beautifully double crochet pattern striped jacket. Ladies or teen Girls who want stunning or glorious, elegant look can easily wear this crochet striped jacket as it not only add to your personality but also make you beautiful. Paired it with your favorite jeans or leggings, and it is fit for every occasion.
27. Over Sized Olive Jacket Free Pattern
If you want to wear something unique or special in this winter season then this stunning or beautiful looking over sized Olive green color is definitely for you. You can wear bulky long sleeves shirts under this jacket. It's great for going out or travelling around and a golden bow over waist make you more fashionable, surely you will get smiled or feel warm or comfortable after wearing it.
28. Comfortable Napa Belted Jacket Free Pattern
The comfortable Napa belted jacket is looking cool to eyes because of their multi-colored shades. Its sky blue, Lime yellow or cool grey colored shades enhanced the beauty of the jacket. Its belt loop to tie it closed as well as a few colored stripes at the end of the sleeves to add some bold style. This comfortable Napa belted jacket is fit for all teen Girls or woman. This jacket enhances your appearance and its pattern is not so tough.
29. Comfy Pocketed Crochet Cardigan Free Pattern
This comfy pocketed Crochet cardigan pattern with grey kitting is delicate and beautiful and you also put this delicate woolly crochet jacket as your wardrobe essentials. Every girl or women easily wear this comfy pocketed crochet cardigan and very easy to make, Elsewhere. This comfy stylish Grey Pocketed cardigan is fit for every occasion.
30. Modern Purple Striped Cardigan Free Pattern
Modern cropped purple color striped cardigan keep you warm and cozy when the mind blows. This modern purple striped cardigan is easy to dress up or down, pair with jeans or a skirt for a stylish and homespun outfit. Crochet modern striped cardigans are the perfect little cardigans to wear, if you want to look great then this three shaded fabulous purple striped crochet cardigan pattern is available which is fit for you.