16 Amazing DIY Wall Art Ideas
DIY wall art is a simple and affordable way to transform your space, and many pieces are easy enough to make yourself. The decor you choose can create a unique vibe in every room. Here we've produced a list by assembling ideas of 16 astonishing DIY wall art to give your home a narcotic feel from boring paints, are modern and time saving; for you to try!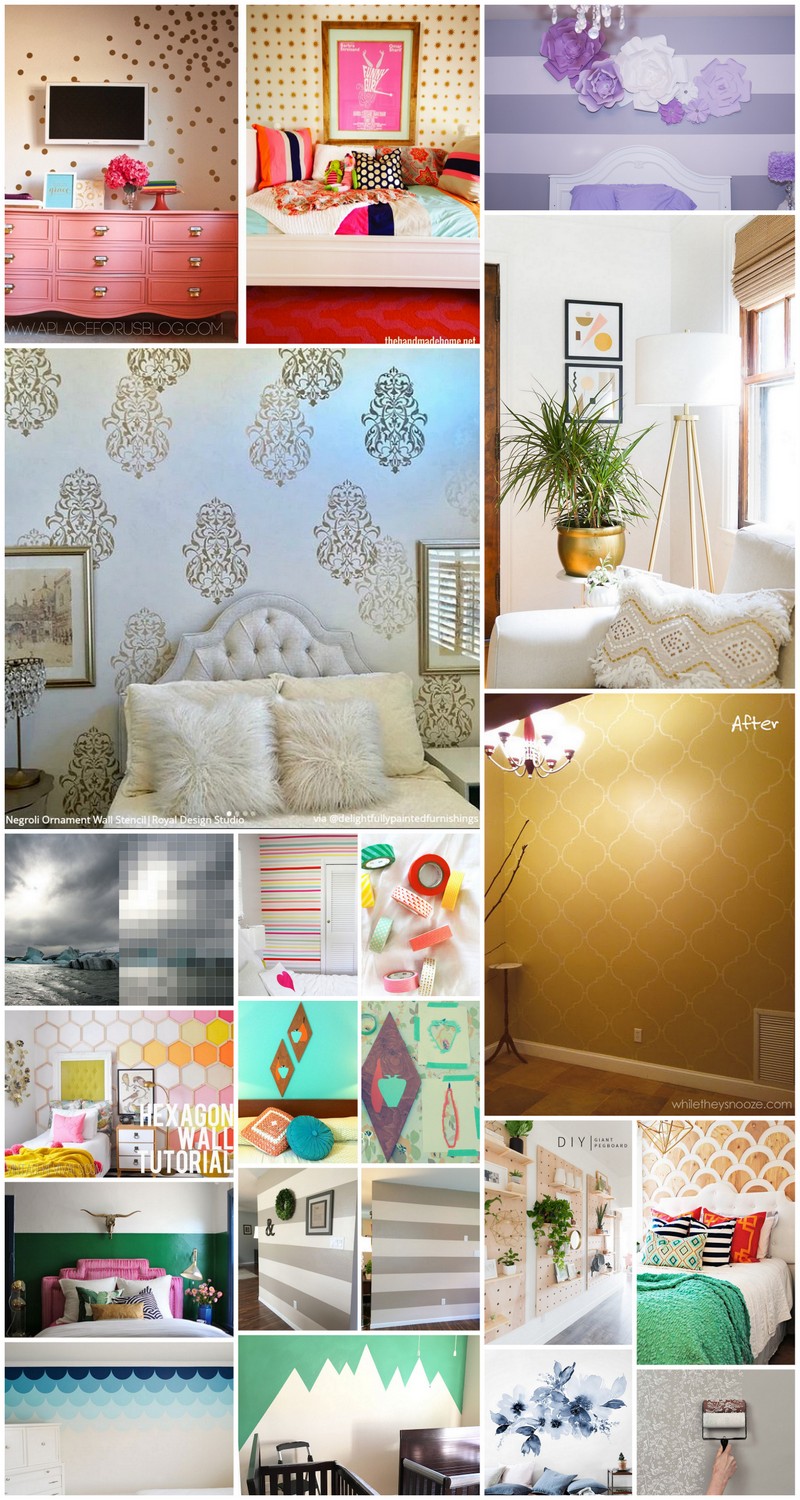 1. An Accent Scalloped Wall
Scalloped Wall Accent DIY gives your bedroom a classy clutter makeover. A fascinating work of wood cutouts is incredible and simply breathtaking. The use of Sharpie paint pen is giving this wall a great texture. Actually, this wall DIY is not that hard and terribly time consuming.
2. Beautiful Wall Stripes
Horizontal stripes on walls are modern, stylish and unique painting ideas that add energy to living spaces. The walls sticking with traditionally white paint can sometimes make the room boring. The horizontal Grey stripes on the wall are giving out the fascinating and modern transformation for a boring white wall.
3. DIY Large Paper Flowers on Wall
Dark and dim-shaded purple and white DIY large paper flowers on horizontally striped painted wall in dark and dim shaded purple are expressing a modern style of art, giving the room a stunning look. This accent is simply awesome!
4. DIY Moroccan Style Wall Stencil
Moroccan accent wall using stencils can be used to add bold color and patterns to walls for a versatile look. Casablanca Trellis Moroccan wall stencil is super easy to stencil. Moroccan stencil is just perfect for spicing up your wall decoration and bring the worldly feel to your interior.
5.Giant Wooden Peg Board DIY
This captivating Giant Wooden Peg Board Wall DIY is perfect for any house. You can use this pegboard as shelves, even to hang art, and as a place to store you backpack and purses, the round mirror on the middle section is eye level for someone.  It can give your entryway wall an entrancing transformation.
6. Hand Paint Watercolor Pixel Art
This Hand Paint Watercolor Pixel wall art is quite simple and meaningful; expressing an abstract of nature. The idea is to take an image, pixelize it, and then recreate it in watercolors. The result is a beautiful, abstract image.
7. Honeycomb Hexagon Wall Art
Honeycomb hexagon wall art is a creative DIY wall art; to bring your space gallery-worthy wall art. Actually, you are going to be a master cutter, and the biggest thing that you have to wrap your brain around is the adjoining angles. This DIY wall art is time consuming but it's not hard. Happy hexing friends!
8. Ombre Scallop Wall
This wall art is inspired by the scales of a mermaid tail. It's a super fun, trendy and cute ombre look for your wall. The flawless paint begins with the lightest color and ends at the darker. However, if you look at it in the reverse its wave shapes also.
9. Amazing Paint Looks Like Wallpaper
A very time saving and easy DIY wall art that can fill your space up with delightful patterns of paint. That can lighten up your boring mood and mind. You can have quality prints by using this pattern paint roller.
10. Painted Scenery Wall
Enhance the beauty of your walls and give a look of scenery, it is the best art for you wall with the texture of green and white colors. It is not much time consuming and expensive. You can get the Details by click below option.
11. Polka Dots Wall Art
Enhance your room's charm with these unique polka dot decals that fits your style, are perfect to create a unique pattern. These polka dot wall decals are easy and affordable to decorate any space. These decals are removable but not reusable.
12. Retro Wall Art
Retro wall art is a modern transformation to your own home; inspired by many artists and designers around the world. It can create a gallery quality art wall in your space. You can do it right now by clicking below option.
13. Washi Tape Wall Art
Washi Tape Wall Art is a marvelous idea to decorate your room in a popular and modern way. The color scheme is quite fine and showing up a fantastic image. It's very impressive indeed.
14. Simple Paper Shapes Wall Art
This DIY Paper Shapes Wall Art is an extraordinary smart DIY paper decor! Inexpensive and easy; a perfect modern piece for that bored and forgotten blank spaces. You can cut out a variety of shapes (circle, squares, crescents, triangles, and polygons) and stagger the sizes of shapes.
15. Two Toned Walls Art
The room is painted a green color with white tone. On the wall, there is a large metallic wall hanging. This Wall decor idea will bring life to your empty walls. The space's moody green walls are offset by the two-toned.
16. DIY Flower Wall Art
This beautiful Flower wall hanging recreated with fake flowers, hot glue, a few nails and a bit of fishing line is perfect DIY decor for your beautiful space. Get this amazing pattern by clicking below option.