35 Beautiful DIY Crafts Using Newspaper
Newspaper Crafts one of the amazing, interesting and creative crafts ever. If you have a great interest in using old newspaper for crafting, it's great time to look around your home and see what is missing. With old newspapers you can easily make so many unique and interesting decorative unique things for your sweet home. Newspaper crafts are like a fun and enjoyable craft for both kids and adults. A newspaper is cheap, and easily available, durable and an accessible medium to use. Newspaper crafts are environmentally friendly. Many people like to recycle old newspaper instead of throw it away on the land and garbage. Newspaper crafting is perfect for those that really love  to make creative things and are passionate about Eco-friendly environment.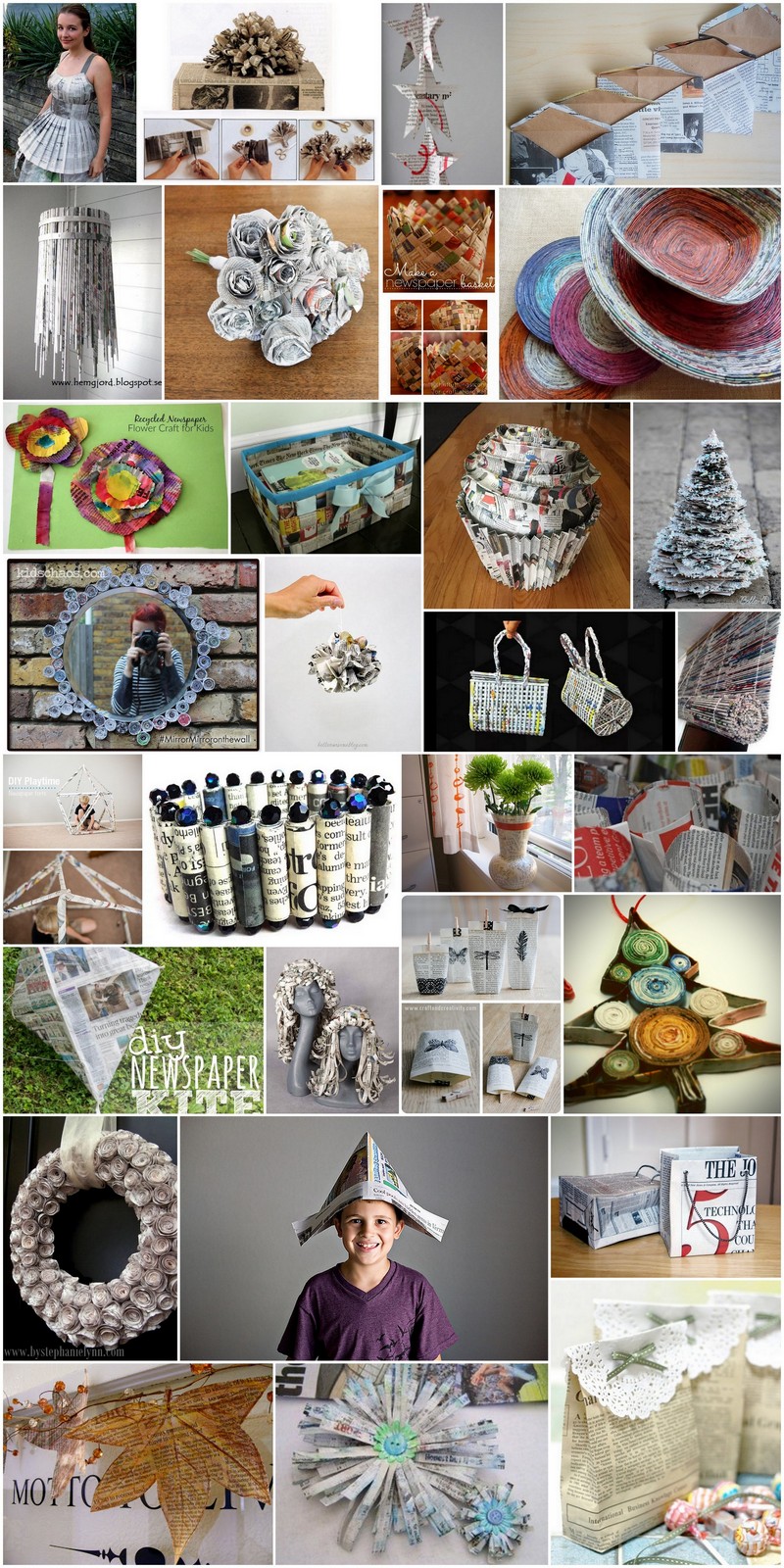 1. Sew a Newspaper Dress
If you are really creative and you want to show your creative skills by utilizing old newspapers then this fabulous newspaper dress is definitely for you. Elegant newspaper dresses can easily be made from recycled newspapers. sewing this unique newspaper dress is just a fun and best way to keep yourself busy in creative crafting activity. Get this amazing enjoyable DIY tutorial by clicking below.
2. Rolled Flowers Wreath
Do you have a lot of old newspapers in your home that are sitting on your shelves collecting dust,Don't throw them away or give them to a thrift store.  Recycle the old newspapers into rolled flower wreaths. gorgeous handmade newspaper rose's wreaths that are shaped into a large roses, a perfect and unique gift for a wedding ceremonies, bridal shower, engagement events, anniversary and Valentine's Day. You can get this  project details by clicking DIY Tutorial Option.
3. Newspaper Lamp Shade
Newspaper Lampshades are the most interesting and eye-catching newspaper craft for any home decor. They look really beautiful and catch the interest  of any one who visit your home.  To make a beautiful lamp shade with old newspaper you just need some newspapers, Scissors, Pencil, Cutter,hot Glue Stick, Ruler to make this alluring newspaper lamp shade at home.
4. Homemade Newspaper Toss Bouquet
You don't need to have musch skills to make beautiful newspaper tossing bouquet for your wedding, or paying extra money for a second arrangement,  now make your own toss bouquet from old  newspapers. Along with being a fun way to re-cycle your favorite daily newspapers, this craft is really budget friendly. You'll Need, Newspapers, Scissors, Hot glue gun, floral cloth wire, Ribbon to make these beautiful and long lasting Toss Bouquet for weddings ceremonies.
5. Decoupage Vase
Decoupaging with newspaper is easy , fun and full of enjoyment activity. Simply decoupage is gluing paper and cut-outs onto a surface. You can decoupage any surface with newspaper like vases. This can easily be done on recycled glass vases . Add a candle  inside the vase and you'll have a lovely centerpiece lying in your home. While these decoupage vases are perfectly fine for holding fresh flowers with water, you don't need to submerge the vases in water to clean them.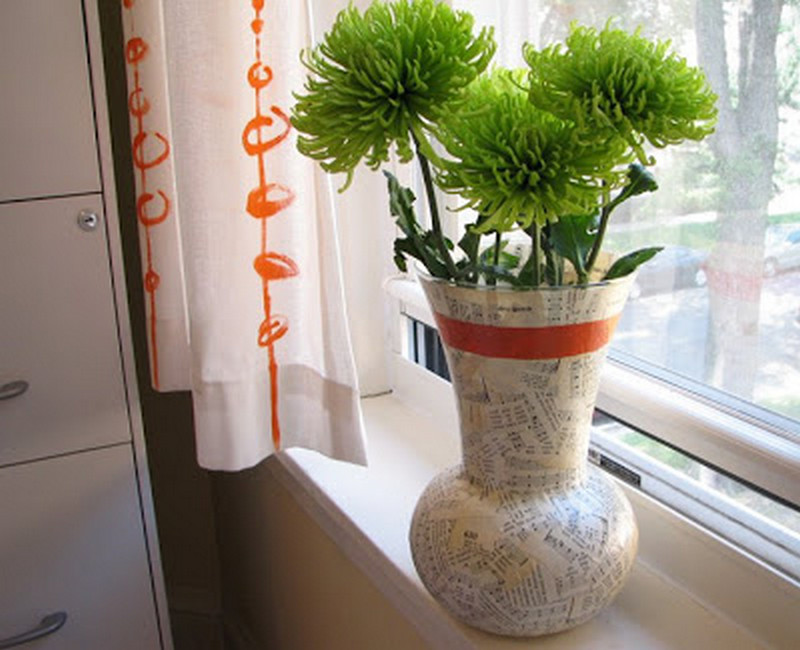 6. Newspaper Treat Bags
Here's is another creative ideas for re-cycling old newspaper into treat and gift bags for your loved ones. This news paper Treat bags are an attractive and interesting  idea for your entire Gift packaging needs that bring much more charm and happiness than simply wrapping your goods in simple plastic wrapping. It is too much inexpensive and durable,easy to make.
7. Basket from a Newspaper
It is easy and fun way to weave a basket using old lying newspaper. It's so easy to rolls paper tubes out of old newspaper and then weave the newspaper tubes into a wonderful durable basket. These  newspapers baskets are remarkably durable, and fairly simply to put together once you get the basic hang of it. you can get details of this amazing project from DIY tutorial link below.
8. Make A Clock From Newspaper
One of the easiest way to recycle old newspaper and turn it into a fancy Wall Clock. Now Decorate your home or office with one of our Newspaper Wall Clocks. Newspaper Clocks are so easy to make and inexpensive. You just need some newspapers, scissor, ruler, glue to make this stunning clock with newspapers. You can get this amazing project details by clicking DIY Tutorial Option.
9. DIY Newspaper Kite
Simple newspaper kite is easy to make and can be done in under an hour.  It's a Kid friendly crafting project and your kids will really have a lots of fun under the sun with a kite you made right at home. You will need, Newspaper, 2 1/4″ Round Wood Dowels, Scissors, Pencil or Pen, String or Twine to make kite. Enjoy this easy tutorial by clicking below option.
10. DIY Paper Mache´ Nesting Bowls
Paper mache is the most creatine and fun way of crafting project you just need to place the balloon in a small bowl with the knot end down. Spray the balloon that totally covered in paper mache with non-stick cooking spray, and then laying down newspaper strips or paper mache until you get about 5 or 6 layers built up.
11. DIY Roman Blinds Out of Newspaper
Beautiful and unique Roman Blinds out of newspapers will make a statement in your home. DIY Roman Blinds are easy to make and can save you hundreds on custom window treatments. You just need old newspapers and roll them around Blinds. This creative craft is too easy and inexpensive. Get this project details by clicking below option.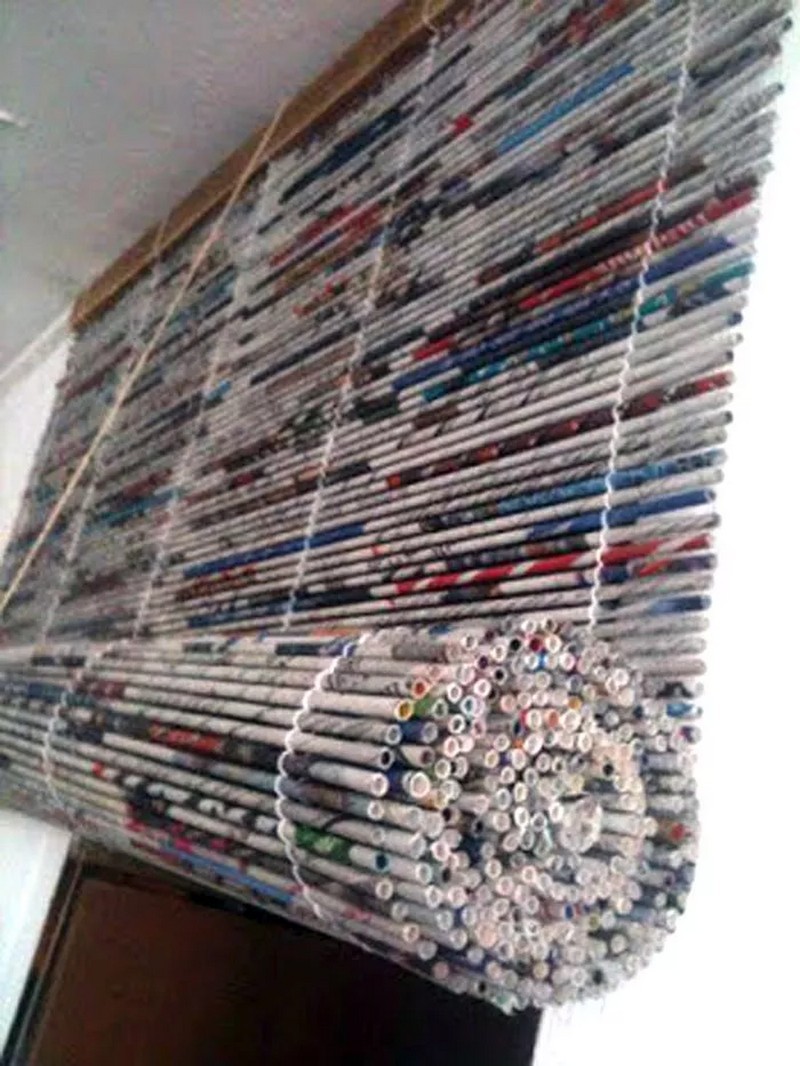 12. Durable Handmade Paper Beads
Making beads with old newspaper is a great way to recycle newspapers, or magazines. Paper beads are inexpensive,durable and fashionably attractive, and can be used in a multitude of projects. To either make beads from old news paper or to design your own paper beads by using white paper and markers.Making newspaper beads is easy enough to do as a Girl Scout and Boy scout or summer camp activity, but the results are beautiful enough for fashionable women to wear with pride.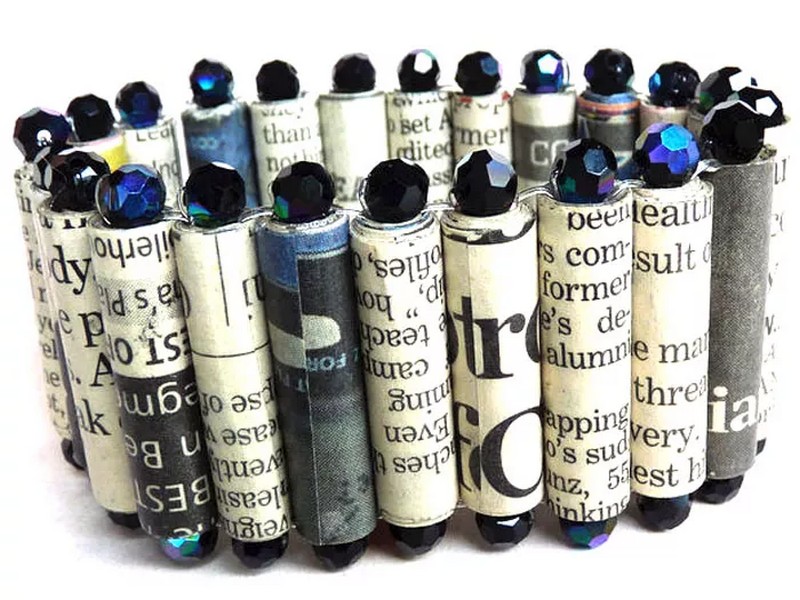 13. Fairy Tale Crafts – Snow White Mirror
Fairy Tale paper crafts taking inspiration from Snow White and the Seven Dwarves animations. To make this enchanting mirror, you will need Old sheets of newspaper, Cocktail stick, Glue stick, stronger glue. You can get this easy tutorial by clicking below option.
14. Gift Wrap and Bow
Even newspaper can also look chic and attractive when used for gift wrapping.By making a fancy gift bow from paper mache and by using old newspaper, any gift can look stylish and presentable when you've run out of the usual gift wrapping paper. Moreover, you can match the newspaper gift  wrapping  to the person's likes, making it a very personalized and versatile gift wrapping set.
15. Glittery Newspaper Tree
Make your home sparkle with this Glitterby using old Newspaper to make fascinating Mini Christmas Tree. Christmas tree crafts come in so many shapes and this one is a little treasure. This is the perfect item to place on a desk or beside dining room or kitchen table during the holiday season. If you live in a small space, you can also make your favourite small sized christmas tree  and display it on the floor.
16. Hand Bag Using Newspaper
Newspaper handbag is easy to carry and looks beautiful as well. This newspaper handbag is very strong and easy to make. You just need some, Cloth, Colors, Paint Brush, Straw, Newspapers, Glue Gun & Stick, Cutter, Adhesive, Scissors and decorative beads to make this stylish newspaper bag. You can get this easy DIY tutorial by clicking below option.
17. Large Newspaper Flower
Do you really like Newspapers crafting that have long been put to a variety of uses. One fun craft project is making unique Newspaper flowers. Make some flowers big or small by utilizing idle newspapers and use them to decorate cards, gift boxes, photo frames, and lots more, too. It's a great budget friendly way to add a splash of style to any homemade gift. Enjoy this amazing crafting  tutorial by clicking below option.
18. Lacquered Newspaper Mats
The easiest way to make eye-catching placemats by using waste, old newspapers is to make some interesting project .Simply laminate the articles together, and you've designed place mats that are simple yet amazing. A variation on this newspaper place mat would be to cut curvy lines into the first newspaper spread. The strips used to weave should remain straight and fine
19. Life-Size Building Blocks
Activity that has your child crafts his own set of building blocks to create bigger-than-life constructs. All you need to do is roll newspapers into logs and your child will have inexpensive blocks to keep him engaged and entertained for hours. With these Life size building blocks, your child will be exercising his imagination and experimenting with balance, cause and effect, structure strength, angles, curves and shapes.
20. News Paper Gift Bag
Do you really want something different and unique thing by using old newspapers?. this fascinating and one of the most unique way to use old newspapers in making of gift bags. this project is so simple and fun way to spend your free time,specially with your kids. It really provides a unique way of wrapping gifts for a child's birthday.
21. Newspaper Basket
If you have an enormous stash of old newspapers lying around to be disposed of, Now it's time to use old newspapers to make , cheaper, and more versatile cousin of wicker baskets and newspaper baskets. Instead of making a basket with an even brim rope, you should go for a zigzag pattern to create a modern and unique look. Get this  beautiful project details by clicking below option.
22. Newspaper Photo Frame
Fabulous little frames are made from old newspapers and cereal boxes and we think they look fabulous. They look great for decorating your child's bedroom or can also make a wonderful Father's Day or Mother's Day gift. You just need newspapers, glue stick, scissors, a thin knitting needle, skewer or toothpick, cereal box, tape, glue, paint to make these wonderful paper photo frames.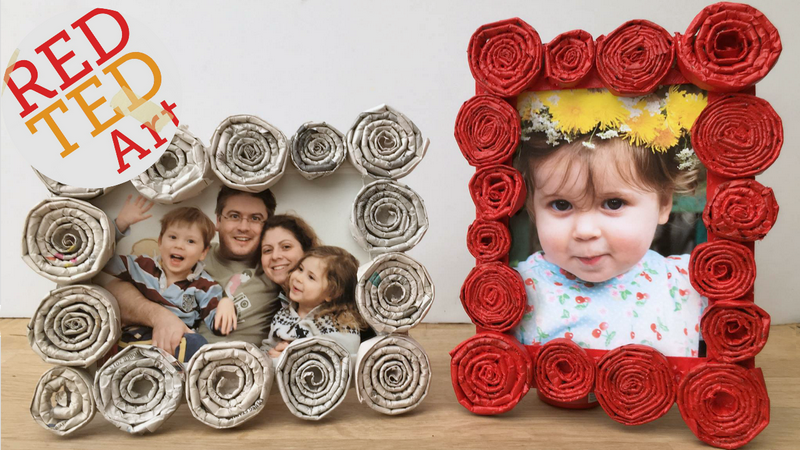 23. Newspaper Hat
Its time to utilize you creative skills to make this astonishing paper hat by reusing old newspapers that you have already own in your homes. The making of newspaper hat is so easy and simple,even not cost too much and long lasting.you can get the details of such amazing crafting of newspaper by clicking at DIY tutorial link below.
24. Newspaper Leaves
Newspaper Crafts are fun and you can make as much as you want, as they practically cost nothing!!! You can easily combine our Nature Finds – i.e. beautiful Autumn Leaves and turned them into this fantastic News Paper Leaf Garland. This newspaper DIY look is pretty on a mantel piece, strung around a mirror, running up a staircase or decorating a room.
25. Newspaper Party Pom
This newspaper Party pom craft is so easy and budget friendly also, as you can make poms that would be perfect for birthday and engagement events  or parties and you can easily use these paper party poms in your home decoration. In just a few steps, you can create cute and amazing newspaper party poms to decorate a party, home office or bedroom. You'll need, 4 to 6 sheets of old newspaper or some string , scissors to make these Party poms.
26. Newspaper Seedling Pots!
An affordable and one the most environmentally friendly way to make newspaper seedling pots for your seeds to grow in. Making seed pots by using old newspapers is not only a thrifty use of the old newspapers, but also good for the planet because it is eco- friendly. Newspapers are, much more economical, and provide a mulch and fertilizer for young plants.
27. Paper Heart Garland
Super simple paper heart garland. This paper heart garland project does not require too much time, and the little paper hearts are just too cute. Make your Valentine day with full of joy by making inexpensive and attractive Paper Heart garland. You just need some, newspapers, baker's twine or yarn, scissors, stapler, whole punch to make this adorable paper Heart Garland. Get this enjoyable DIY tutorial by clicking below.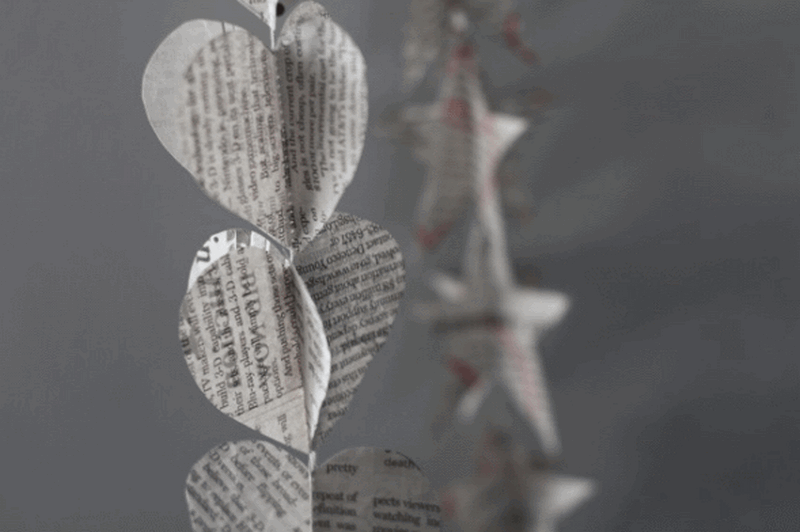 28. DIY Paper Wigs
Make these paper wigs by using old newspapers for a fun and it's the  easy way to add to your Halloween costume.Tools and Materials Plastic grocery bag Scissors Round object to use as a head form Masking tape ,old Newspaper, thin colored paper, or curling ribbon for "hair", tape. Enjoy this easy DIY tutorial by clicking below option or link.
29. Recycled Newspaper Envelopes with Liners
Making your own envelopes by using old newspapers is a simple, inexpensive, and environmental friendly way to personalize and enhance your letters, especially if you have cards that have lost their matching package. It's also a great addition to a store-bought gift to make it a little more unique.
30. Recycled Newspaper Flower Craft
If you have a interest in collecting old newspaper to use in for your kid's craft projects, then you will definitely going to love this newspaper flowers recycled craft for kids to make. This newspaper recycled flowers , as it uses two amazing materials that open a window of crafting possibilities,  newspaper and bubble wrap.
31. Ship Make From a Newspaper
Making a paper Ship is a great activity that's easy to finish and doesn't require a lot of materials. The beauty of making a paper Ship is that you only need one piece of printer paper or newspaper to complete the task! By folding the paper into sharp creases and shaping it to look like a Ship, you can make a great-looking paper boat in minutes.
32. Stitched Newsprint Garland
Here's a little project that's perfect for a rainy (or snowy) day inside with the kids (or even just you!) If you've got a sewing machine, scissors and yesterday's newspaper, you're all set to go. The shape is really up to you as well, hearts or flowers or butterflies would all be lovely, but in the spirit of the season, we went with stars and added a little holiday color to make them extra special.
33. Turn Old Book into Gift Bags
It's more fun and more affordable to make your own bags instead of buying ready-made. I used the same technique when folding these gift bags out of an old Book at the home. We don't suggest ripping apart antique books that could be valuable, but some books or magazines would work well for this project. Even a newspaper would work. You can get this amazing project details by clicking DIY Tutorial Option.
34. West Elm Coiled Paper
These little things are so easy to make, and basically free. This west Elm coiled paper crst is so easy and simple, even cheap and durable. Making strips and rolling coils, you just need to glued the round pieces together, and then outlined them with strips, folding them to create the desired shapes, gluing them to the coils at the contact points.
35. Jewelry Box Using Newspaper
Do you want to make unique and attractive jewelry box?. This fabulous jewelry box is marvellously made with old newspapers, that you have already in your homes.Don't throw the old newspapers and use then in some intresting, creative crafting project like making of newspaper jewelry box. This paper jewelry box is so easy to make and durable.